[press release]
Charter of Rights and Freedoms, patriation of Constitution are commemorated in new stamp issued by Canada Post
Stamp is second in a set of 10 that marks unforgettable moments of the last 50 years, as part of Canada 150 celebrations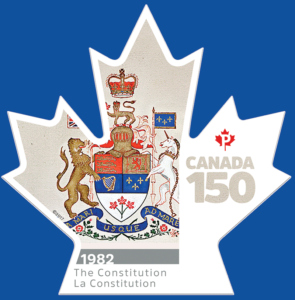 OTTAWA, May 3, 2017 – Only a peaceful nation achieves full independence with the stroke of a pen, thousands of citizens erupting in cheers and a band striking up a fanfare – which is how Canada brought its Constitution home.
That achievement is commemorated in a new stamp that Canada Post unveiled today on Parliament Hill, together with the Right Honourable Beverley McLachlin, P.C., Chief Justice of Canada.
Full constitutional independence in a historic ceremony
On a wet and windy April 17, 1982, on the steps of Parliament Hill, before a sea of onlookers under umbrellas and waving Canadian flags, Queen Elizabeth II signed the Proclamation of the Constitution Act, 1982. Our Constitution was finally ours alone: Canada now had full autonomy to amend it without involving the British Parliament. As well, we would live under a Canadian Charter of Rights and Freedoms that guarantees the fundamental protections and liberties we all enjoy.
Today, 35 years later, Canadians still rank the Charter as our most important national symbol, says Statistics Canada. For all these reasons, Canada Post – the nation's storyteller because of its iconic national stamp program – is proudly commemorating the Constitution and Charter with a special stamp.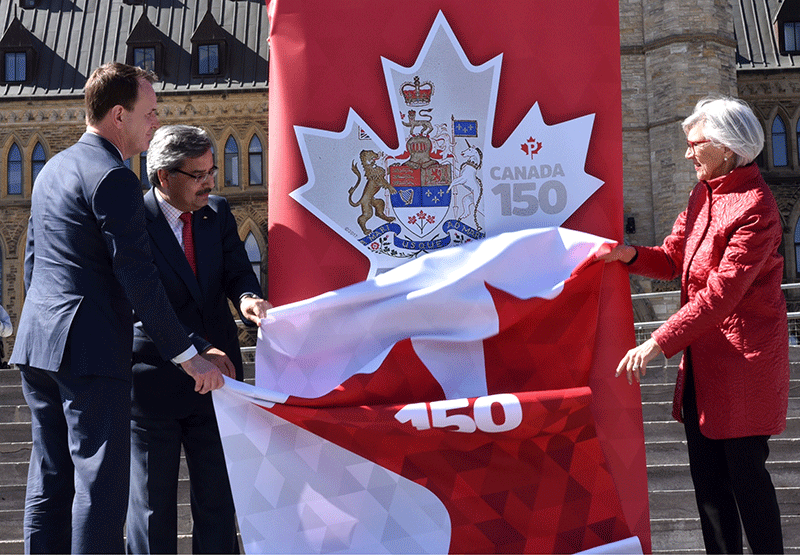 [Photo, left to right: Steven MacKinnon, Member of Parliament for Gatineau, Parliamentary Secretary to the Minister of Public Services & Procurement; Deepak Chopra, President and Chief Executive Officer, Canada Post; The Right Honourable Beverley McLachlin, P.C., Chief Justice of Canada. Photo by Canada Post/Denis Drever.]
A range of rights worth cherishing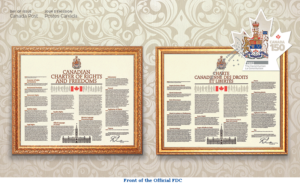 Under the Charter, Canadians have the right to freedom of speech, religion, thought and expression, as well as freedom of the press, of mobility, of association and of assembly, among others. The Charter also enshrines citizens' rights to vote, to run for office, to a fair trial, to security and privacy, as well as important linguistic rights. The Charter also confers equality upon every individual in Canada – regardless of race, religion, national or ethnic origin, colour, sex, age or physical or mental disability. Governments must not discriminate on these grounds in laws or programs.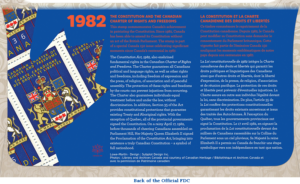 A video featuring former prime minister Jean Chrétien, who led the negotiations toward the patriation of the Constitution and the creation of the Charter; former Supreme Court justice Michel Bastarache; and Linda Cardinal, full professor and Research Chair on Francophonie and Public Policy, University of Ottawa; is on canadapost.ca/canada150.
This stamp is the second to be issued in a set of 10 that marks Canada 150 by celebrating unforgettable moments in the last 50 years of the country. They are the first stamps in Canada Post's history to be issued in the shape of our iconic national symbol, the maple leaf. The first stamp, celebrating Expo 67, was unveiled in Montréal on April 27 by world-renowned architect Moshe Safdie, who designed the famous Habitat 67 complex depicted on the stamp.
About the stamp
Each of the 10 maple-leaf shaped die-cut Permanent domestic-rate stamps measures 40 mm X 40 mm and is printed in 6 colours plus tagging. The self-adhesive stamps are available in a booklet of 10 (4 million stamps). A gummed pane of 10 stamps, with circle perforations 4.5 cm in diameter, is also available (80,000 panes). Official First Day Covers, one for each stamp design and each cancelled in OTTAWA ON, are available in a pack of 10 (10,000 packs). The stamp issue was designed by Roy White and Liz Wurzinger of Subplot Design Inc. in Vancouver, B.C., and printed by the Lowe-Martin Group.
•
The third of 10 Canada 150 stamps to be unveiled online
By lauding Canadian innovation and technology, Canada Post continues to tell compelling celebratory stories for Canada 150
TORONTO – Canada Post will continue to celebrate Canada 150 by unveiling the third of 10 special commemorative stamps, this one with special guest Canadian astronaut Jeremy Hansen (details below).
Each of the 10 stamps to be unveiled separately over the next five weeks tells an exceptional story about a Canadian achievement, milestone or unforgettable moment from the past 50 years (since Canada's centennial in 1967). These multimedia events will be Canada Post at its best as the country's storyteller, a role anchored in its iconic national stamp program.
These moments of great significance were chosen by Canada Post's independent Stamp Advisory Committee – 12 members of the public who are experts in their field, including historians, archivists, philatelists, graphic designers and others.
The Event:
An online stamp reveal commemorating one of Canada's proudest and most celebratory moments with special guest Canadian astronaut Jeremy Hansen and the students of Glen Ames Senior Public School in Toronto.
WHAT: Unveiling the third of 10 stamps that will highlight unforgettable moments of Canada's past 50 years, in honour of Canada 150.
WHEN: Thursday, May 4, 10 a.m.
WHERE: Online only. A video unveiling the third stamp will be posted on the Canada Post Magazine at CanadaPost.ca/Canada150