Updated March 2nd: In the original Postal Bulletin article, the pricing was incorrect for two of the items, Love Skywriting and Year of the Rooster. We have corrected it below.
[from the Postal Bulletin]
The Stamp Ceremony Memento
In 2017, the United States Postal Service® launched a new and exciting product for our customers and collectors — the stamp ceremony memento. This memento will be offered for a number of different products wrapped into one first-day-of-issue experience collectable. The stamp ceremony memento is professionally packaged to preserve the contents.
Love Skywriting stamp memento, Item 561634, $19.95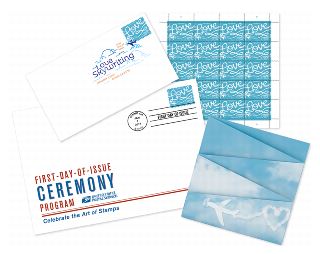 The Love Skywriting stamp depicts the word "Love" written in white cursive script against a blue sky studded with wispy clouds. The edges of the letters are just beginning to blur into the surrounding sky. Underlining the word is a decorative swirl of smoke that emphasizes the message. A small, stylized plane, dwarfed by the giant letters, completes the end of the swirl, with smoke trailing from its tail.
The stamp ceremony memento for the Love Skywriting stamp includes:
First-Day Cover
Announce your affection with this new Love Skywriting first-day cover. The #6-¾ envelope bears one affixed Forever® stamp cancelled with an official first-day-of-issue postmark.
Digital Color Postmark
The Love Skywriting digital color postmark celebrates public displays of affection with handwriting floating between blue arcs representing clouds. Also included are an image of a plane and the stamp title, as well as the date and location of stamp issuance: January 7, 2016, Chino, CA 91710.
Ceremony Invitation
The stamp ceremony memento includes an original invitation to the official first-day-of-issue ceremony. This invitation shows the order of the event and all of the participants.
Ceremony Program
The full-color program features the first-day-of-issue ceremony agenda and participants on one side, with a narrative about the stamp design on the reverse.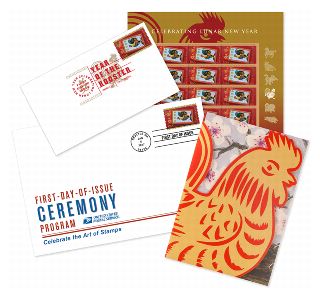 The stamp ceremony memento is also currently available for the Lunar New Year: Year of the Rooster stamp, the Dorothy Height stamp, the Oscar de la Renta stamp, and the John Fitzgerald Kennedy stamp. Each memento has an individual item number and is offered in the quarterly USA Philatelic catalog, online at www.usps.com/shop, or by calling 800-782-6724. Customers may request a free catalog by calling 800-782-6724 or writing to:
U.S. Postal Service
Catalog Request
PO Box 219014
Kansas City, MO 64121-9014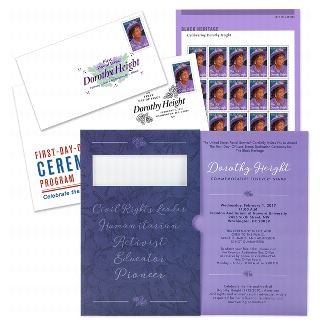 Others mementos available:
Lunar New Year: Year of the Rooster stamp memento, Item 552034, $18.95
Dorothy Height stamp memento, Item 474334, $21.95
John Fitzgerald Kennedy stamp memento, Item 474634, $18.95
Oscar de la Renta stamp memento, Item 562734, $21.95