[press release]
Brand New Sixth Edition Of The ArtCraft Variety Catalog Arrives!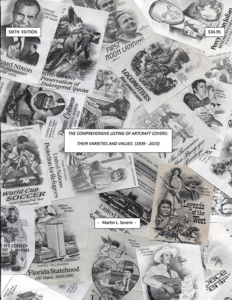 The Comprehensive Listing of ArtCraft Covers: Their Varieties and Values (1939-2015) is the Sixth (Compendium) Edition in this mammoth project which documents all known ArtCraft covers and varieties produced by the Washington Press (Washington Stamp Exchange). The Listing references over 15,000 collectibles, spanning the company's full 76 years of production, and has been affectionately labeled "The ArtCraft Bible" by the active community of ArtCraft collectors worldwide.
The first update since 1996, the Sixth Edition is better than ever in that it lists every U.S., UN, and foreign First Day Cover as well as miscellaneous, event, and topical covers produced by ArtCraft. Pertinent information is provided regarding color, size, shading, text, watermark, and other design varieties; fakes; printing errors; imprinted covers; etc. As with prior editions, the latest version continues the assignment of unique, trademarked alphanumeric identification numbers (SEV#s) for each variety, realistic price values (SEV$), and an integrated checklist for collectors to track their collections.
The 250-page (unillustrated) catalog is produced in a deluxe spiral-bound format. It incorporates thousands of revisions and changes, new discoveries, as well as all issues through October 2015, when ArtCraft ceased new production.
No collector or dealer should be without this gem!
For more information or to place an order, send $34.95 (plus $3.50 shipping/handling) to the following. Check, money order, or PayPal gladly accepted.
P.O. Box 762 Rockville, MD 20848-0762
PoppyGunInc@gmail.com
Be sure to include your full name and shipping address as well as your email address.
Note: The $3.50 shipping/handling is waived for the second and all subsequent copies.
(Maryland residents must include 6% sales tax)