These stamps and the ATM label will be issued April 19th.
From Israel Post:
Take a tour through Jerusalem with our April stamp issues: start with the Bridge of Strings at the city's entrance, through the Mahane Yehuda Market and the impressive Knesset Building. Plus read on for what else is in store…..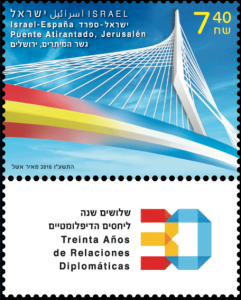 The Bridge of Strings in Jerusalem was designed by Spanish architect Santiago Calatrava so this makes for a most fitting visual image to express the bridge of friendship developed over 30 years between Israel and Spain.
You can just feel the hustle and bustle of the markets in our Markets in Israel stamp set. Vibrant colors, charming ambiance and many bargains to be found!!
Israel prides herself on her democracy and the Knesset Building is where is all happens. The building was inaugurated 50 years ago and, in addition to being the site of many historic events in the development of the country, it houses many famous works of art.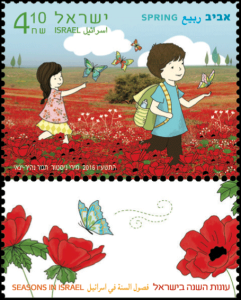 Our stamp for Spring stands out in this collection with its stunning red wildflowers. What a great season that symbolizes blooming and renewal!
In the past we have issued many Israeli Achievements stamps. This time we focus on the success in Printing. There are numerous start-up companies in Israel which promote and adapt printing technology to the needs of the 21st century.
Every year we remember the fallen in our Israel's wars and battles. Our Memorial Day stamp this year illustrates the poignant poem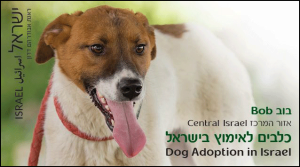 by Natan Yonatan, "The Sand Will Remember".
Our April ATM shows cute Bob from Central Israel. He looks like he's having great fun!
More designs: