There are special postmarks to commemorate the resumption of service. See the bottom of this page.
[press release]
United States Postal Service Resumes Mail Service to Cuba
First Direct Transportation of Mail Service to Cuba in More Than 50 Years
WASHINGTON — Today the United States Postal Service announced it resumed direct transportation of mail service with Cuba for the first time in more than 50 years. [The USPS tells The Virtual Stamp Club that direct service began March 16th, the day before this announcement.]
"The U.S. Postal Service is pleased to participate in the historic direct transportation of mail service with Cuba," said Postmaster General and CEO Megan J. Brennan. "Moving letter mail and package volume directly between our countries will improve service for businesses and consumers."
The types of mail customers in the U.S. can send to Cuba include First-Class Mail International items, such as postcards and letter size envelopes, First-Class Package International Service items, Priority Mail International Flat Rate Envelopes and Priority Mail International Small Flat Rate Priced Boxes. A comprehensive list of mailing conditions to Cuba can be found in the International Mail Manual at: http://pe.usps.gov/text/imm/ce_017.htm#ep1416554.
The Postal Service receives no tax dollars for operating expenses and relies on the sale of postage, products and services to fund its operations.
•
The VSC radio feature on this, and how it could prove an opportunity for postal history colletors, can be found here.
•
Special March 16th postmarks, available until May 16th:

United States Postal Headquarters
USA⁄Cuba Direct White House Station
National Postal Museum Post Office⁄Special Cancellations
2 Massachusetts Avenue
Washington, DC 20002-9998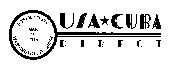 United States Postal Headquarters
USA⁄Cuba Direct Postal HQ Station
National Postal Museum Post Office⁄Special Cancellations
2 Massachusetts Avenue
Washington, DC 20002-9998