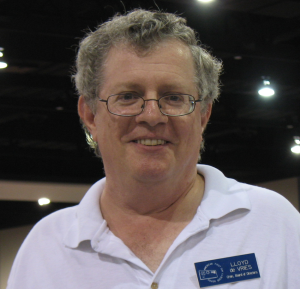 The CBS Radio News Stamp Collecting Report is undergoing its first major change in many years: It now includes a "promo" (promotional announcement) for The Virtual Stamp Club, and CBS is no longer paying me for it.
Some background: The Report began April 4, 1997, as a weekend feature distributed by CBS News, Radio (that is, the radio department of CBS News, as opposed to the news department of CBS Radio, which doesn't exist) free to affiliated stations. At the time, I was the producer of the weekend features, and had lobbied for more than a year to produce and voice a stamp collecting feature.
The acceptance of the feature by CBS News marked my return to on-air status. I was paid the minimum "talent fee" as stipulated by the American Federation of Television and Radio Artists, which I believe was then $25 or so and is now $28.25.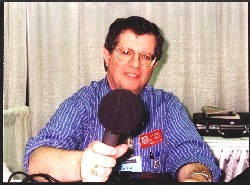 Although the weekend features distributed to stations varied greatly in length, I decided to make the CBS Stamp Collecting Report always be one minute in length, because I realized that philately would be a tough sell on commercial radio, and I wanted to make it as easy to use as possible. Every one of the nearly 1,000 reports has been between 59 and 61 seconds.
[That's me interviewing Scott Publishing Co. president Stu Morrissey in 2000; he took the photo.]
A few years later, I began (with permission) to put them on The Virtual Stamp Club's website. Eventually, I sometimes decided there was more to say than could be squeezed into 60 seconds, and I produced a longer, often more slowly read, version for The VSC. A version of the short edition was also provided to APS Stamp Talk, and a version of the long one to KNLS Radio, a Christian evangelical radio operation that has a hobby show.
The feature paved the way for me to provide "spots" (short news reports of 30 seconds or less) for CBS News Radio, for which I was also paid.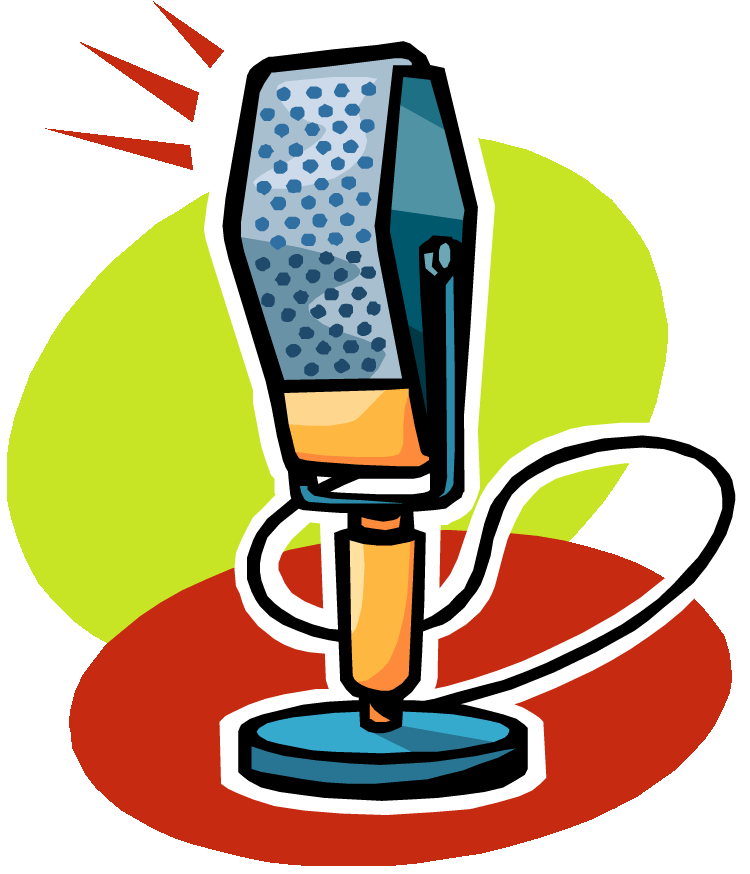 Now to the 2015 events: I am still an active broadcast journalist, but practically all my work is as a per diem (freelancer) at ABC News. (CBSNews.com laid me off in December 2007.) At age 62, it seemed like a good time to start collecting my CBS pension. I haven't worked for CBS in 3½ years.
Except for the radio pieces. CBS considers them "employment," and I cannot collect the pension as long as I am "employed." After several months of arguing fruitlessly and frustratingly with the benefits subcontractor, and getting different answers from each person to whom I spoke, I gave in. I was "terminated" on September 21, 2015.
After six months, I can again be employed by CBS.
In the meantime, though, I can't be paid for radio pieces, and, as a broadcasting professional, I won't work for a major network for free. The spot reports, heard in newscasts, are done (at least until next spring).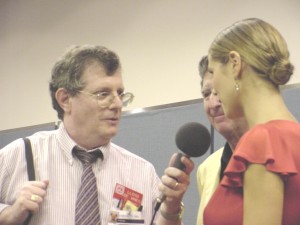 But the feature? I really enjoyed doing them. As the producer, I could do whatever I wanted (within the rules of CBS News), and I daresay it was some of the most creative work I have done in radio news: Music, audio mixes, interviews, even humorous writing. I had fun.
[That's me on the left interviewing supermodel Heidi Klum in 2002, when IGPC-client Grenada issued stamps honoring her.]
I was also proud of them: In something like 960 weeks, there were only six repeats. I believe "The Stamp Collecting Report" is the longest-running network radio feature on philately ever.
So I worked out a deal: I will produce the features on a weekly basis, as before, but with that promo in them. I'm no longer a "CBS News Reporter" (CBS News is big on titles; "correspondent" is a higher rank there) and instead of "Lloyd de Vries, CBS News" it's now "Lloyd de Vries, for CBS News." You can hear the first of the new version here.
It's not the first major change in format, or even the most-major change: When the Report started, I tried to include that weekend's major stamp shows, but that ate up a lot of time, and I had discovered that at least one station was saving the features and running an entire month's output on one night.
And it may not be the last. As they say in radio, "Stay tuned."