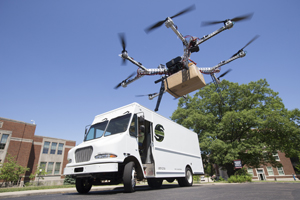 Maybe that mailman who landed his gyrocopter on the U.S. Capitol lawn was ahead of his time!
The Postal Service is looking at suppliers for its next generation of delivery trucks — and one of the proposals is for an electric truck that doubles as a drone launcher.
That bid has already made the first cut, so who knows?
There's more on the story at The Wall Street Journal and USA Today. The photo is from the University of Cincinnati, which is working with The Workhorse Group on the electric van and Horsefly Drone.