[press release]
World's Rarest Stamp Lands at National Postal Museum
1856 British Guiana One-Cent Magenta Going on Exhibit in April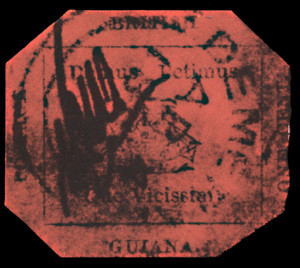 The Smithsonian's National Postal Museum will display the world's rarest postage stamp. Beginning in April 2015, the 1856 British Guiana One-Cent Magenta will be prominently displayed in the museum's William H. Gross Stamp Gallery for a three-year period. The exhibition of the stamp will be the longest and most publicly accessible showing ever.
No postage stamp is rarer than the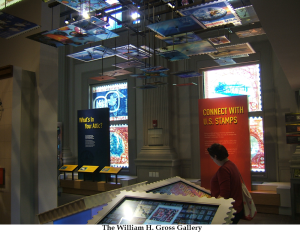 sole-surviving example of the British Guiana One-Cent Magenta. Printed in black ink on magenta paper, it bears the image of a three-masted ship and the colony's motto in Latin: "we give and expect in return." Noted for its legacy, the stamp was rediscovered by a 12-year-old Scottish boy living in South America in 1873, and from there passed through some of the most important stamp collections ever assembled. It is the only major rarity absent from the Royal Philatelic Collection owned by Queen Elizabeth II.
The stamp gained international attention in February when it was sold at auction by Sotheby's New York. After considering several of the world's most prominent philatelic museums, the anonymous buyer elected to loan the object to the National Postal Museum. Since 1986, the stamp has been on view only briefly, at select stamp shows in London, Hong Kong and Chicago.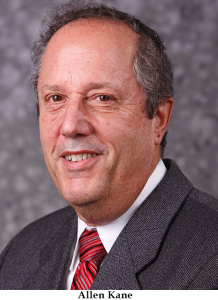 "We love being able to showcase truly impressive objects for the world to see," said Allen Kane, director of the museum. "Everyone loves to see rare and extremely expensive things, and this stamp certainly fits the bill."
In 1852, British Guiana began receiving regular postage stamps manufactured in England. In 1856, a shipment of stamps was delayed, which threatened a disruption of postal service throughout British Guiana. The postmaster turned to the printers of the local Royal Gazette newspaper and commissioned a contingency supply of postage stamps: the one-cent magenta, a four-cent magenta and a four-cent blue. The sole-surviving example of the one-cent magenta was first rediscovered not far from where it was initially purchased. In 1873, L. Vernon Vaughan, a 12-year-old Scottish schoolboy living with his family in British Guiana, found the stamp among a group of family papers bearing many British Guiana issues. A budding philatelist (stamp collector), Vaughan could not have known the stamp was unique, but he did know that he did not have an example, and he added it to his album. He later sold the stamp to another collector in British Guiana for several shillings.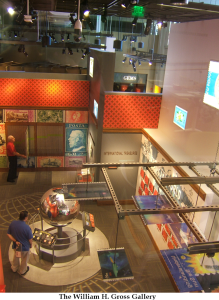 The British Guiana One-Cent Magenta entered the United Kingdom in 1878, and shortly after, it was purchased by Count Philippe la Renotière von Ferrary, perhaps the greatest stamp collector in history. France seized his collection, which had been donated to the Postmuseum in Berlin, as part of the war reparations due from Germany, and sold the stamp in 1922. It was bought by Arthur Hind, a textile magnate from New York, for its first auction-record price of $35,000, followed by Australian engineer Frederick T. Small, then a consortium headed by Irwin Weinberg and lastly by John du Pont, heir to the chemical company fortune, eccentric amateur sportsman and avid collector. Du Pont paid $935,000 for the stamp in a 1980 auction, another record-setting price at that time.
"Not only is the British Guiana far and away the most valuable stamp in the world, it is also, by sheer size and weight, the most valuable single object in the world today," said David Redden, the Sotheby's auctioneer who sold the British Guiana. "Every time the British Guiana has sold at auction it has set a new world record price for a stamp, recently selling for $9.5 million—four times higher than the price of any single stamp in history."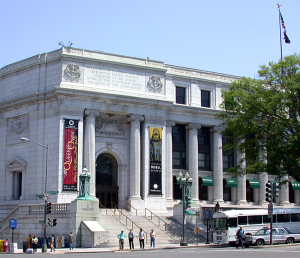 The National Postal Museum is devoted to presenting the colorful and engaging history of the nation's mail service and showcasing one of the largest and most comprehensive collections of stamps and philatelic material in the world. It is located at 2 Massachusetts Avenue N.E., Washington, D.C., across from Union Station. The museum is open daily from 10 a.m. to 5:30 p.m. (closed Dec. 25). For more information about the Smithsonian, call (202) 633-1000 or visit the museum website at www.postalmuseum.si.edu