Update October 14th: Susan McGowan is still head of Stamp Services; she is on a detail with the "sales group." "We expect her to return," USPS spokesman Mark Saunders told The Virtual Stamp Club.
The decision to replace Susan McGowan as manager of USPS Stamp Services was reported by Bill McAllister of Linn's Stamp News less than a day before what is supposed to be the Postal Service's "blockbuster issue" was released, Batman. No reason was given.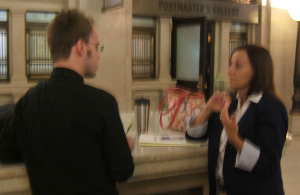 McGowan had a rocky relationship with stamp collectors. With the stamp collecting press, too. Jay Bigalke of Linn's Stamp News (shown interviewing McGowan at the National Postal Museum last September) first met McGowan when she chewed him out at AmeriStamp Expo 2013. Bigalke had reported on upcoming issues for 2013, which Stamp Services had not yet announced.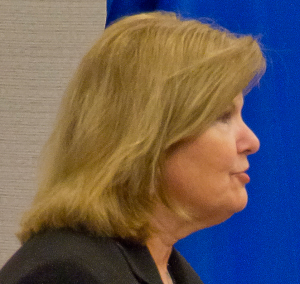 McGowan will be replaced, at least on an interim basis, by Cindy Tackett (left), a long-time staffer in Stamp Services who has often worked directly with stamp collectors.
More details are on the Linn's website. You can leave your comments right here. Some of Lloyd's thoughts are in his radio feature.