VSC member Chris Lazaroff reports a 2014 version of this veteran stamp will be issued on October 11 in Dover Delaware at the Dover Stamp Club's show. The format is not know.
From the October 2nd Postal Bulletin:
On October 11, 2014, in Dover, DE, the U.S. Postal Service® will re-issue the Purple Heart Medal stamp, Forever® First Class Mail® priced at 49 cents, in one design, in a pressure-sensitive adhesive (PSA) pane of 20 stamps
The Purple Heart Medal stamp design features a photograph taken by Ira Wexler of a Purple Heart medal awarded during World War II. The 2011 Purple Heart with Ribbon stamp was reworked in 2012 to display a slightly larger image of the Purple Heart medal on a pure white background. Designed by art director Jennifer Arnold, the stamp was given the name Purple Heart Medal.
How to Order the First-Day-of-Issue Postmark:
Customers have 60 days to obtain the first-day-of-issue postmark by mail. They may purchase new stamps at their local Post Office, at The Postal Store® website at http://www.usps.com/shop, or by calling 800-STAMP-24. They should affix the stamps to envelopes of their choice, address the envelopes (to themselves or others), and place them in a larger envelope addressed to:
Purple Heart Medal Stamp
Postmaster
Dover Post Office
55 Loockerman Plaza
Dover, DE 19901-9998
After applying the first-day-of-issue postmark, the Postal Service will return the envelopes through the mail. There is no charge for the postmark up to a quantity of 50. For more than 50, customers have to pay five cents each. All orders must be postmarked by December 10, 2014.
There are two philatelic products for this stamp issue:
125416, First-Day Cover, $0.93.
125431, Stamped Deck Card, $0.95.
Technical Specifications: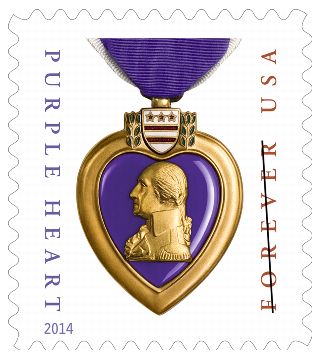 Issue: Purple Heart Medal Stamp
Item Number: 115400
Denomination & Type of Issue: Forever First-Class Mail
Format: Pane of 20 (1 design)
Series: N/A
Issue Date & City: October 11, 2014, Dover, DE 19901
Designer: Jennifer Arnold, Washington, DC
Art Director: Jennifer Arnold, Washington, DC
Typographer: Greg Breeding, Charlottesville, VA
Artist: Ira Wexler, Braddock Heights, MD
Engraver: WRE
Modeler: CCL Label, Inc.
Manufacturing Process: Gravure
Printer: CCL Label, Inc.
Printed at: Clinton, SC 29325
Press Type: Dia Nippon Kiko (DNK)
Stamps per Pane: 20
Print Quantity: 70 million stamps
Paper Type: Prephosphored, Type I
Adhesive Type: Pressure-sensitive adhesive
Processed at: CCL Label, Inc., Clinton, SC
Colors: Yellow, Magenta, Cyan, Black, Purple 266, Red 1805
Stamp Orientation: Vertical
Image Area (w x h): 0.73 x 0.84 in./18.54 x 21.34 mm
Overall Size (w x h): 0.87 x 0.98 in./22.10 x 24.90 mm
Full Pane Size (w x h): 5.25 x 4.83 in./133.35 x 122.55 mm
Plate Size: 420 stamps per revolution
Plate Numbers: "C" followed by six (6) single digits
Marginal Markings:
Front: Plate numbers in four corners of pane
Back: © 2012 USPS • USPS logo • Plate position diagram • Barcode (115400) in upper right and lower left corners of pane • Promotional text