[press release]
Banksias to feature on Australia Post stamp issue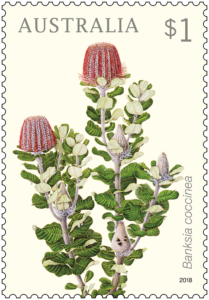 Australia Post is celebrating the botanical beauty of the Australian bushland, the banksia, in its latest stamp issue.
Banksias hold great historical significance to Australia. They were among the first flora species collected in Australia, during Captain Cook's 1770 journey on the Endeavour, and scientifically described. The genus takes its name from botanist Joseph Banks who collected five species during the voyage.
Australia Post Philatelic Manager, Michael Zsolt said: "we are excited to acknowledge banksias as an Australian botanical icon, striking in both the natural landscape and in native gardens. For those with a keen interest in Australian native plants, we believe these stamps will be a popular collector's item".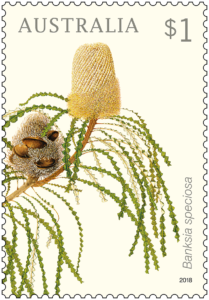 The genus banksia is a group of woody evergreens with diverse foliage and large, brightly-coloured flower heads that range from prostrate shrubs to trees of up to 25 metres. Of the 173 species in the genus, all but one are endemic to Australia.
The stamps feature the artwork of celebrated Australian botanical artist Celia Rosser OAM, who was Monash University's botanical artist from 1974 to 1999. Working alongside Australian botanist and banksia specialist Alex George, Ms Rosser produced scientifically accurate and highly detailed illustrations of banksia species. Her impressive 25-year work on the project culminated in a three-volume publication of her life-sized artworks, titled The Banksias, and earned Ms Rosser an honorary Master of Science in 1981 and an honorary PhD in 1999 from Monash University. She was awarded a Medal of the Order of Australia (OAM) in 1995 for her services to botanical art.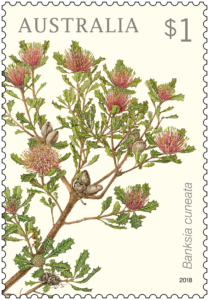 Ms Rosser said: "banksias are a great love of mine and I am thrilled Australia Post has created this stamp issue to celebrate their beauty and durability. They capture something really special about Australia".
The artworks shown on the stamps and minisheet are held in the Monash University Collection. The four domestic base-rate ($1) stamps have been designed by Australia Post designer Jo Muré and feature the following species:
Banksia speciosa which occurs naturally on Western Australia's south-coast, and has long, triangular-lobed leaves that can reach eight metres in height.
Banksia grossa is a small, slow-growing shrub, growing to around one metre. This fire-resistant species is limited to the north of Perth.
Banksia coccinea is known for its bright red flower heads, highlighted by its grey-green oblong foliage. It grows to around eight metres and blooms from June through to January in Western Australia.
Banksia cuneata has two common names, Matchstick Banksia for its flowers and Quairading Banksia for the place it was discovered. It is listed "endangered", with less than 2,500 mature trees evident in the wild.
The stamp issue products include a minisheet, first day cover, stamp pack, set of four maxicards and booklet of 20 x $1 stamps. They are available from 20 February 2018 at participating Post Offices, via mail order on 1800 331 794, and online at auspost.com.au/stamps while stocks last.
For more information visit auspostcollectables.com.au .