[press release]
THE WAR AMPS LAUNCHES 100TH ANNIVERSARY CELEBRATIONS WITH UNVEILING OF CANADA POST COMMEMORATIVE ENVELOPE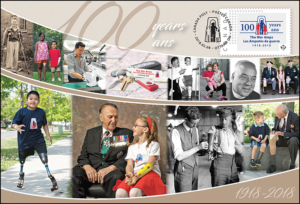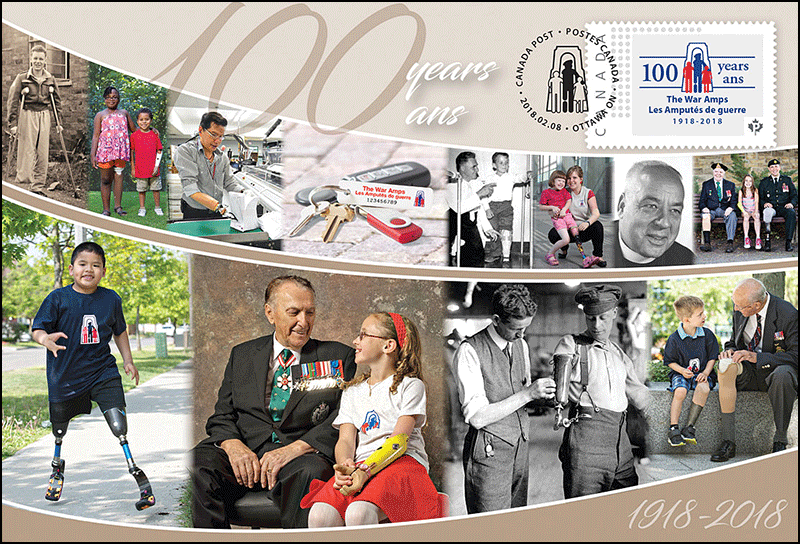 OTTAWA, ON – February 8, 2018 – The War Amps officially launched its 100th anniversary year today with the unveiling of a Canada Post commemorative envelope, at the Association's National Headquarters in Ottawa.
Amputee veterans returning from the First World War started The War Amps in 1918 to assist each other in adapting to their new reality as amputees. They then welcomed amputee veterans following the Second World War and established the Key Tag Service to gain meaningful employment and provide a service to the public. The War Amps many programs have grown over the past 100 years from assisting war amputees – whom they still serve – to all amputees, including children.
"Our work now encompasses a diversity of issues, from financial assistance for artificial limbs, to providing a voice for amputees' rights, to spreading our PLAYSAFE message to children and much more. As we move into our second century, just as The War Amps has fought the battle for veterans since 1918, we still have a modern-day battle to fight to ensure that the needs of all amputees are met," said Brian Forbes, Chairman of the Executive Committee of The War Amps.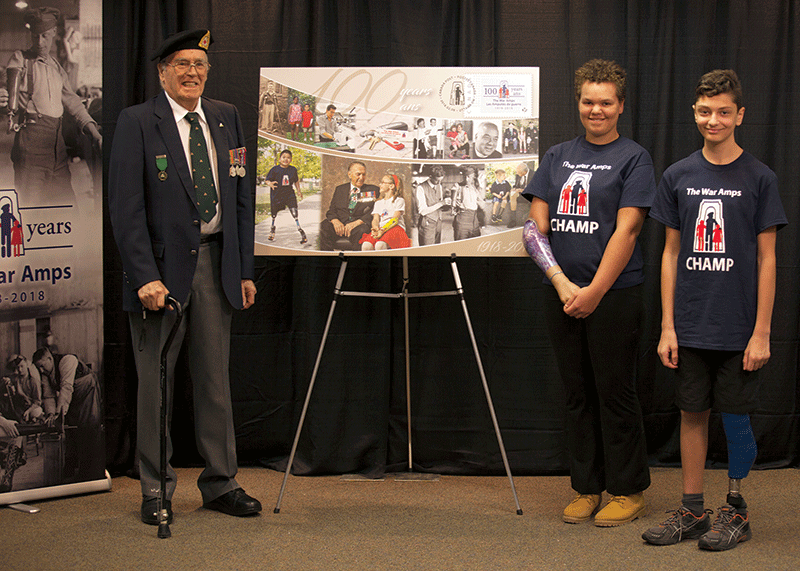 Shown above: Second World War amputee veteran Charles Jefferson and members of The War Amps Child Amputee (CHAMP) Program, Olivia Miller and Dante Fotia, unveil the commemorative envelope.
The envelope reflects The War Amps long history and innovative programs through photos and text. Jim Phillips, Director of Stamp Services at Canada Post said, "The War Amps is an important part of Canada and has made a tremendous impact on the lives of amputees in this country. We are delighted to issue a commemorative envelope that celebrates its rich history and the vital work it does."
The War Amps work for Canada's amputees over the past 100 years would not have been possible without the public, said Forbes. "The War Amps receives no government grants and our programs are possible through donations to the Key Tag and Address Label Service. Thanks to the continued support of Canadians, our commitment remains to improve the lives of amputees long into the future."
Envelopes can be purchased by visiting Canada Post's website [direct link to the envelope]. Please visit waramps.ca for more information about The War Amps 100th anniversary.