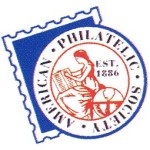 The American Philatelic Society is recognizing Ed Andrews, Jack Congrove, Dawn Hamman, Ed & Judy Jarvis, and David McNamee for National Service to Philately, and Ed Laveroni, Sharon Newby, Gerald Nylander, Guy Purington, Roger Rhoads, Charles Shoemaker, Norm Shufrin, Roger Skinner, Tim Wait, and Ann Wood for Local Service.
Awards are presented each year at the APS General Meeting, this year on August 5 at StampShow 2017 in Richmond, Virginia. The Young Adult and Young Philatelist awards will be announced at a later date.
Brief bios of each recipient can be found on the APS website.
The Nicholas G. Carter Volunteer Recognition Award recognizes the outstanding efforts of our volunteers at national and local levels and also recognizes our younger members whose outstanding leadership is crucial to our future. The awards were been named in memory of Nick Carter who helped to establish them. Nick felt it was important to recognize those unsung heroes who contribute their talents, time and energies to benefit stamp collecting and the society.