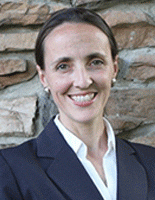 The American Philatelic Society reports its Show Manager, Megan Orient, will be leaving following AmeriStamp Stamp Expo (March 3-5, Reno, Nevada) "to be closer to her family." We understand that that is in Pittsburgh.
Orient was hired by the APS less than two years ago. According to the APS press release in May 2015, "she and her husband are planning to make Centre County, Pennsylvania a long-term home." APS Headquarters is located in Bellefonte, Pa., the county seat of Centre County.
However, that press release also said she and her husband have a young son. The job description just posted by the APS says the position "requires significant travel, weekend work, and work outside of standard hours." Typically, the show manager not only goes out to the APS' twice-annual show locations early and stays after the end of the shows, but also goes to potential venues for first-hand assessments of their suitability.
The Virtual Stamp Club interviewed Orient for a May 2015 radio feature, which you can hear here.
According to that press release, she had both training and experience in convention and event planning. She succeeded Dana Guyer, who left the APS to become executive director of the American Stamp Dealers Association.