Updated March 13th: The USPS says this stamped card will be issued August 11 in Independence, Ohio. That would coincide with the first day of Americover 2017, the annual show and convention of the American First Day Cover Society.
from the USPS December 28, 2016: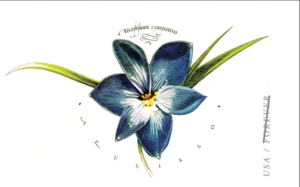 The U.S. Postal Service issues a new stamped card for 2017 featuring an illustration of a Chilean blue crocus (Tecophilaea cyanocrocus) from pre-existing artwork by illustrator and designer Dugald Stermer (1936–2011). His penciled calligraphy under the flower indicates one of its common names azulillo — loosely translated from Spanish, it means "little blue thing"— with its botanical name above. The Chilean blue crocus is hardy in U.S. Department of Agriculture zones seven to nine. It generally flowers in February or March in North America. Art director Ethel Kessler designed the stamped card.