Updated August 3rd: The California Dogface Butterfly stamp will not be issued in 2017. Supplies of the previous nonmachineable-rate stamp, the Eastern-Tailed Blue Butterfly, issued in 2016, are sufficient at this time.
From the USPS, September 20, 2016: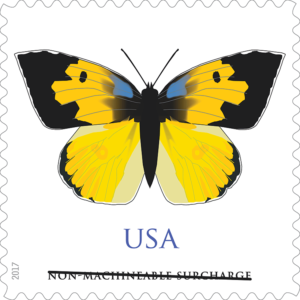 The California dogface graces the seventh non-machineable butterfly stamp for use on irregularly sized envelopes, such as square greeting cards, invitations or announcements. The stamp is a highly stylized, simplified image of a California dogface (Zerene eurydice) — named for the forewing markings of the male butterfly, which bear a pattern that resembles a poodle head in profile. Greeting card envelopes printed with a silhouette of a butterfly indicate the need for additional postage or the use of a butterfly stamp. Tom Engeman created the stamp and art director Derry Noyes designed it.
VSC: Why would there be another non-denominated Butterfly stamp so soon after the issuance of this week's [September 24, 2016] Eastern Tailed Blue butterfly stamp? Even if the non-machineable rate changes, the stamp design would not need to change.
USPS: The California Dogface Butterfly has been announced as a 2017 issuance. It could be issued whenever need demands during the calendar year, even if that need is much later in the year.