Updated March 13th: The USPS confirms this stamp will be issued Friday, September 1st in South Bend, IN.
From the USPS, September 20, 2016: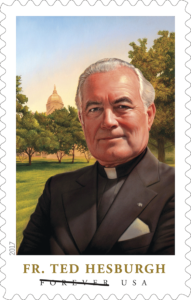 The Rev. Theodore M. Hesburgh (1917Ð2015) was an important mid-20th century educational, religious and civic leader. The stamp features an oil-on-panel painting of Father Hesburgh standing on the University of Notre Dame campus, where he served as president for 35 years. Appointed to the U.S. Commission on Civil Rights in 1957, Father Hesburgh helped compile reports on racial discrimination and the denial of voting rights that resulted in the Omnibus Civil Rights Act of 1964. A champion of causes ranging from education to immigration reform to the plight of underdeveloped nations, Father Hesburgh worked with many important organizations that reflected his beliefs. Art director Ethel Kessler designed the stamp with original art by Tim O'Brien.
The University of Notre Dame's Facebook Page the day after the USPS announcement said the stamp would be issued "September 1" (a Friday) but the press release to which it linked only says "next fall." Friday, September 1 is the start of Labor Day Weekend, which might discourage getting a top USPS official for the first-day ceremony. On the other hand, The Fighting Irish football team hosts the Temple Owls the following day, which might make a trip from Washington more attractive.