Scott Catalogue Number: 5142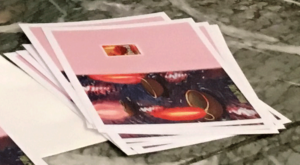 Updated October 5th: A report and photos from the first-day ceremony are here.
Updated September 17th: from the USPS
Diwali Forever Stamp
First-Day-of-Issue Ceremony
Oct. 5, 2016, at 1 p.m.
Consulate General of India
3 East 64th Street
(Between 5th and Madison Avenue)
New York, NY 10065
The Postal Service's on-site stamp sales and retail operation opens at noon.
The event is free and open to the public. Seating is limited. The public is asked to RSVP at this link: www.usps.com/diwali
Updated September 17th: Here is the DCP for this issue: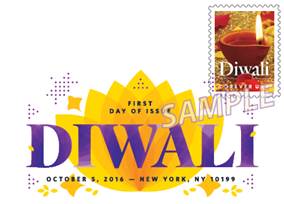 It measures 3" x 1.6". The B&W postmark for this issue is the standard 4-bar First Day of Issue postmark.
Updated September 15th, from the USPS: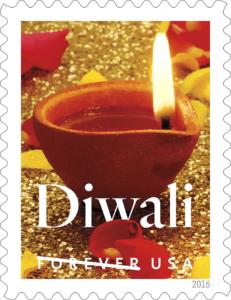 On October 5, 2016 in New York, NY, the U.S. Postal Service will issue the Diwali stamp (Forever priced at 47 cents) in one design, in a pressure-sensitive adhesive (PSA) pane of 20 stamps (Item 588800).
The stamp will go on sale nationwide October 5, 2016.
In 2016, the U.S. Postal Service commemorates the joyous festival of Diwali, which is also known as Deepavali. One of the most important annual Hindu events, the holiday celebrates the triumph of good over evil. The stamp features a photograph of a traditional diya — a small flickering lamp made from a bowl filled with oil — and flower petals against a glimmering gold background. "Diwali" in white type is featured underneath the diya. During Diwali, diyas dot the homes of observers around the world. Diwali is an important festival in several religions, including Buddhism, Jainism, and Sikhism. Spanning five days each autumn, Diwali is considered by some to be the start of the new year. In 2016, Diwali will be celebrated on October 29 (for South Indians) and October 30 (for North Indians). Greg Breeding designed the stamp with a photograph by Sally Andersen-Bruce. William J. Gicker served as the project's art director.
Stamp Fulfillment Services will make an automatic push distribution to Post Offices of a quantity to cover approximately 30 days of sales.
How to Order the First-Day-of-Issue Postmark:
Customers have 60 days to obtain the first-day-of-issue postmark by mail. They may purchase new stamps at their local Post Office, at The Postal Store website at http:⁄⁄www.usps.com⁄shop, or by calling 800-782-6724. They should affix the stamps to envelopes of their choice, address the envelopes (to themselves or others), and place them in a larger envelope addressed to: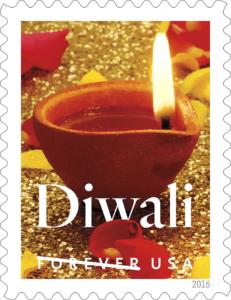 Diwali Stamp
Stamp Fulfillment Services
Cancellation Services
8300 NE Underground Drive, Pillar 210
Kansas City, MO 64144-9998
After applying the first-day-of-issue postmark, the Postal Service will return the envelopes through the mail. There is no charge for the postmark up to a quantity of 50. There is a 5-cent charge for each additional postmark over 50. All orders must be postmarked by December 5, 2016.
There are six philatelic products for this stamp issue:
588806 Press Sheet with Die-cut, $75.20.
588810 Digital Color Postmark Keepsake, $11.95.
588816 First-Day Cover, $0.91.
588821 Digital Color Postmark, $1.62.
588824 Framed Art, $19.95.
588830 Ceremony Program, $6.95.
Technical Specifications:
Issue: Diwali Stamp
Item Number: 588800
Denomination & Type of Issue: First-Class Mail, Forever
Format: Pane of 20 (1 design)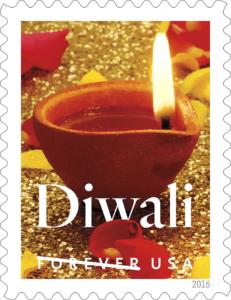 Series: N⁄A
Issue Date & City: October 5, 2016, New York, NY 10199
Art Director: William Gicker, Washington, DC
Designer: Greg Breeding, Charlottesville, VA
Typographer: Greg Breeding, Charlottesville, VA
Photographer: Sally Anderson-Bruce, New Milford, CT
Modeler: Joseph Sheeran
Manufacturing Process: Offset, Microprint
Printer: Ashton Potter (USA) Ltd. (APU)
Printed at: Williamsville, NY
Press Type: Muller A76
Stamps per Pane: 20
Print Quantity: 30,000,000 stamps
Paper Type: Nonphosphored Type III, Block Tag
Adhesive Type: Pressure-sensitive
Processed at: Ashton Potter (USA) Ltd. (APU)
Colors: Black, Cyan, Magenta, Yellow
Stamp Orientation: Vertical
Image Area (w x h): 0.77 x 1.05 in⁄19.56 x 26.67 mm
Overall Size (w x h): 0.91 x 1.19 in⁄23.11 x 30.23 mm
Full Pane Size (w x h): 5.55 x 5.76 in⁄140.97 x 146.30 mm
Press Sheet Size (w x h): 22.20 x 11.52 in⁄563.88 x 292.61 mm
Plate Size: 320 stamps per revolution
Plate Numbers: "P" followed by four (4) digits
Marginal Markings:
Front: Plate number (4 locations)
Back: USPS Logo • Two barcodes (588800) • Copyright date • Plate block • Promotional text
[USPS press release]
U.S. Postal Service Honors Festival of Diwali with a Forever Stamp
Hindu Holiday Celebrated in Late October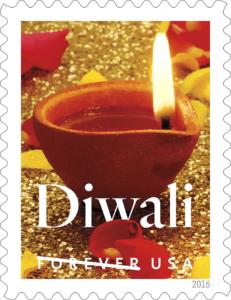 WASHINGTON — The U.S. Postal Service will commemorate the joyous Hindu festival of Diwali with a Forever stamp. The Wednesday, Oct 5, first-day-of-issue dedication ceremony will take place at the Consulate General of India in New York City.
The stamp design is a photograph featuring a traditional diya oil lamp beautifully lit, sitting on a sparkling gold background. Diya lamps are usually made from clay with cotton wicks dipped in a clarified butter known as "ghee" or in vegetable oils.
Also known as Deepavali, Diwali celebrates the triumph of good over evil. Spanning five days each autumn, it is considered by some to be the start of the new year.
On the Hindu calendar, Diwali falls on the eve of, or on, the new moon that occurs between mid-October and mid-November. In 2016, the main day of the festival will be celebrated Oct. 29 for South Indians and Oct 30 for North Indians.
Diwali is a shortened version of the Sanskrit word Deepavali, which roughly translates as "a necklace of lights." During Diwali, the flickering oil-wick diyas sprinkle the homes of observers around the world.
Before the festival, many Hindus traditionally go shopping, clean their homes, open their doors and windows, create intricate rangoli — a vibrant floor pattern traditionally made from materials such as rice powder, colored sand and flower petals — and light diyas with hopes that Lakshmi, the goddess of wealth and prosperity, will visit. In some regions of India, people play games, just as Hindu lore says that the god Shiva did. On the festive main day of the holiday, families pray for Lakshmi, dress up in their best clothes, enjoy lavish feasts and sweets, exchange gifts and light fireworks. Diwali also marks the new year for people in Gujarat and a few other states of India.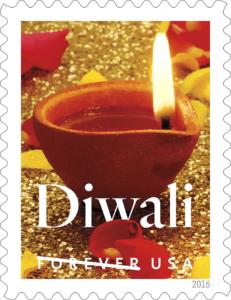 Sally Andersen-Bruce of New Milford, CT, photographed the diya. Greg Breeding of Charlottesville, VA, designed the stamp and William J. Gicker of Washington, DC, service as the project's art director.
The Diwali stamp is being issued as a Forever stamp. This Forever stamp will also be equal in value to the current First Class Mail 1-ounce price.
The Postal Service receives approximately 40,000 suggestions for stamp ideas annually from the public.  Stamp subjects are reviewed by the Citizens' Stamp Advisory Committee. Of that, approximately 25 topic suggestions for commemorative stamps are selected by the Committee for the Postmater General's approval.