Shakespeare
Issue Date: Tuesday, 5th April 2016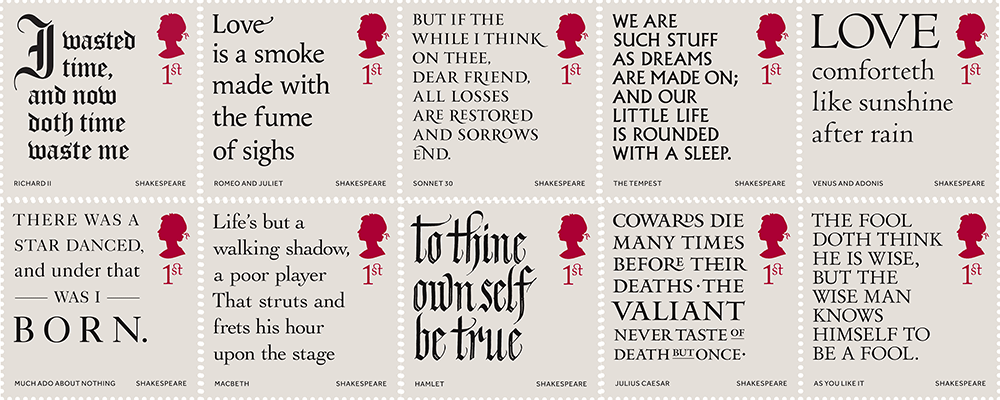 Products:
10 x First Class Stamps £6.40
First Day Cover £8.16
First Day Envelope 30p
Stamp Souvenir £8.16
Presentation Pack £6.90
Set of 10 Stamp Cards £4.50
Brilliant Uncirculated Coin Cover £28.00
Reason and Inspiration
2016 sees the 400th anniversary of the death of William Shakespeare, the most published author and most performed dramatist of all time as well as a global icon of UK culture. To commemorate this milestone, Royal Mail is issuing a set of ten Special First Class stamps on 5th April 2016, paying tribute to the genius of Shakespeare through his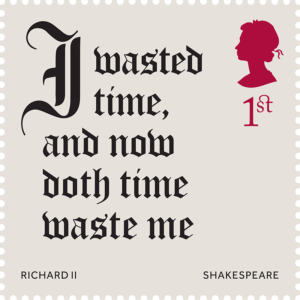 immortal words and poetry. Having previously issued stamps that depict performances of his plays, a painting of the bard himself and the world famous Globe Theatre, for this set Royal Mail has opted to focus on selected quotes from plays and sonnets that have made him so famous and ensured an enduring popularity.
Previously issued Royal Mail stamps on the theme of Shakespeare are listed below in chronological order:
1964: Shakespeare Tercentenary
1996: Globe Theatre (buildings)
2006: National Portrait Gallery (painting of Shakespeare)
2011: Royal Shakespeare Company (performances)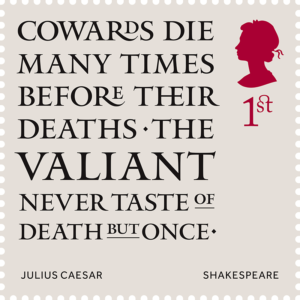 Stamps In Detail:
Price: £6.40
Code: AS1401
Technical details :
Number of stamps: Ten
Value of Stamps: First Class
Design: The Chase
Acknowledgements: Hamlet calligraphy by Peter Horridge
Stamp Format: Square
Two se-tenant strips of five
Stamp Size: 35mm x 35mm
Number per sheet: 25/50
Sheet size: 194mm x 367mm
Printer : International Security Printers
Print Process: Lithography
Perforations: 14.5 x 14.5
Phosphor: Bars as appropriate
Gum: PVA