Updated October 4th: The Scott Catalogue number for this issue is 5105.
Updated September 1st: By the USPS:
There was a misprint on the Henry James First-Day Cover, which has been corrected. Customers receiving the misprint can exchange it for a corrected copy at no charge or keep it and order a corrected copy. Both versions are available for sale to the public.
The item numbers for each are as follows:
The misprinted version — item 119417.
The corrected version — item 119416
To order either of these First-Day Covers, customers should call 800-STAMP-24 (800-782-6724).
Updated July 22nd: Two of the credits were corrected by the USPS. The listings below have been changed.
Updated July 3rd: Here is the Digital Color Postmark for this issue: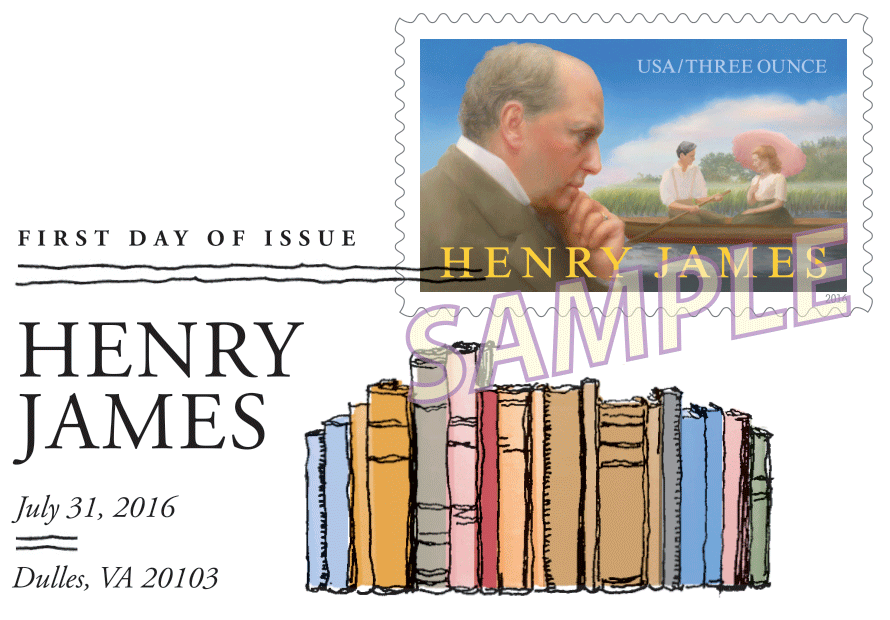 Updated June 23rd: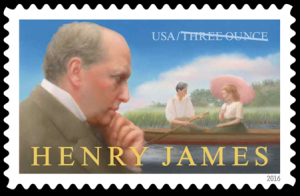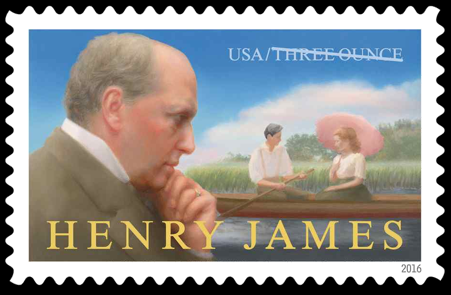 On July 31, 2016, in Dulles, VA, the U.S. Postal Service will issue the Henry James three ounce rate mail use stamp (Non-denominated priced at 89 cents) in one design, in a pressure-sensitive adhesive (PSA) pane of 20 stamps (Item 119400).
The stamp will go on sale nationwide July 31, 2016.
The 31st stamp in the Literary Arts series honors Henry James (1843–1916), a towering figure in American literature. In novels and stories that often explored the complex interplay between Americans and Europeans, James sought to portray the intricacies of society and the inner lives of his characters with exquisite realism, an intellectual and artistic achievement that earned him a reputation as one of the greatest writers America has ever produced. The stamp features an original painting. On the left is a portrait of Henry James based on a 1906 photograph by Alvin Langdon Coburn; on the right side, behind James, is a vignette showing a man and a woman in a small boat, an artistic interpretation of the climactic scene from James's 1903 novel, The Ambassadors. The words "THREE OUNCE" on this stamp indicate its usage value. Like a Forever® stamp, this stamp will always be valid for the price printed on it. The artist for this stamp was Kate Sammons; the art director was Antonio Alcalá.
Stamp Fulfillment Services will not make an automatic push distribution to Post Offices. Post Offices may begin ordering stamps prior to the FDOI through SFS Web.
How to Order the First-Day-of-Issue Postmark:
Customers have 60 days to obtain the first-day-of-issue postmark by mail. They may purchase new stamps at their local Post Office, at The Postal Store® website at http:⁄⁄www.usps.com⁄shop, or by calling 800-782-6724. They should affix the stamps to envelopes of their choice, address the envelopes (to themselves or others), and place them in a larger envelope addressed to: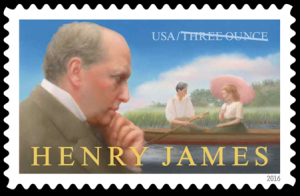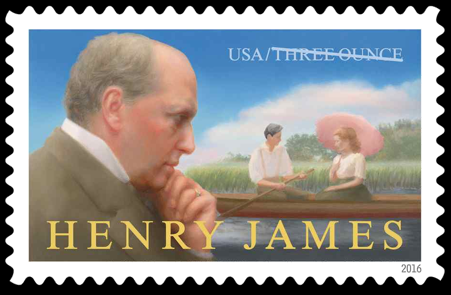 Henry James Stamp
Special Events
22403 Randolph Drive
Dulles, VA 20103-9998
After applying the first-day-of-issue postmark, the Postal Service™ will return the envelopes through the mail. There is no charge for the postmark up to a quantity of 50. There is a 5-cent charge for each additional postmark over 50. All orders must be postmarked by October 1, 2016.
There are four philatelic products for this stamp issue:
119406, Press Sheet with Die-cut, $106.80 (print quantity 1,000)
119410 Digital Color Postmark Keepsake, $19.95
119416 First-Day Cover, $1.33
119421 Digital Color Postmark, $2.04
Technical Specifications:
Issue: Henry James Stamp
Item Number: 119400
Denomination & Type of Issue: Three ounce rate, Non-denominated, Mail use
Format: Pane of 20 (1 design)
Series: Literary Arts
Issue Date & City: July 31, 2016, Dulles, VA 20103
Designer: Kate Sammons, Los Angeles, CA
Art Director: Antonio Alcalá, Alexandria, VA
Typographer: Kate Sammons, Los Angeles, CA
Artist: Kate Sammons, Los Angeles, CA
Modeler: Sandra Lane⁄Michelle Finn
Manufacturing Process: Offset, Microprint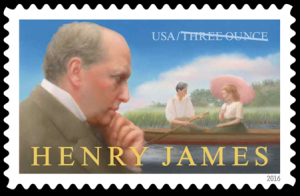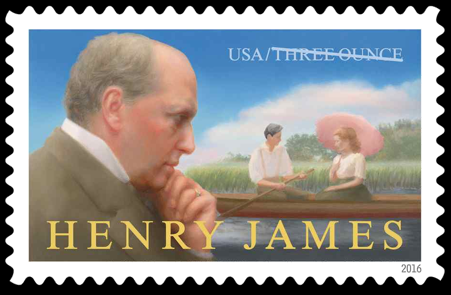 Printer: Banknote Corporation of America
Printed at: Browns Summit, NC
Press Type: Alprinta 74
Stamps per Pane: 20
Print Quantity: 20 million stamps
Paper Type: Phosphor Tagged Paper, Overall
Adhesive Type: Pressure-sensitive
Processed at: Banknote Corporation of America, Browns Summit SC
Colors: Cyan, Magenta, Yellow, Black, PMS 129⁄Yellow
Stamp Orientation: Horizontal
Image Area (w x h): 0.84 x 1.42 in.⁄21.34 x 36.07 mm
Overall Size (w x h): 0.98 x 1.56 in.⁄24.89 x 39.62 mm
Full Pane Size (w x h): 5.92 x 7.24 in.⁄150.37 x 183.90 mm
Press Sheets Size (w x h): 21.72 x 11.84 in.⁄551.69 x 300.73 mm
Plate Size: 240 stamps per revolution
Plate Numbers: "B" followed by five (5) single digits
Marginal Markings:
Front: Plate numbers in four corners of pane
Back: © 2015 USPS • USPS logo • Plate position diagram • Barcode (119400) in upper right and lower left corners of pane • Promotional text
Updated June 10th, from the USPS: This stamp will be issued Sunday, July 31st, without a first-day ceremony. The postmark will read Dulles, VA 20103.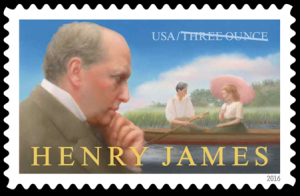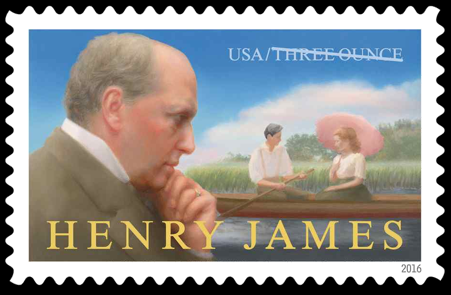 From the USPS, March 31, 2016: The 31st stamp in the Literary Arts series honors Henry James (1843–1916), a towering figure in American literature. In novels and stories that often explored the complex interplay between Americans and Europeans, James sought to portray the intricacies of society and the inner lives of his characters with exquisite realism, an intellectual and artistic achievement that earned him a reputation as one of the greatest writers America has ever produced.
Henry James was born in New York City on April 15, 1843. His four siblings included William James, who would become one of the most influential American psychologists and philosophers, and Alice James, who would be recognized posthumously as a perceptive diarist. Their father was a wealthy philosopher and mystic who insisted that his children be intellectually stimulated. He took the entire family to Europe for three years in 1855, when James was 12, and returned with them for a second yearlong trip from 1859 to 1860, an unconventional education that immersed them in galleries, museums, and theaters.
In 1861, James began to study law at Harvard, but he soon committed himself to a literary life. His first known published work, a theater review, appeared in a Boston newspaper in 1863, followed by his first short story in a monthly magazine in 1864. He was soon writing for such prominent national journals as The Atlantic Monthly and The Nation even as he traveled in Europe, sometimes for several years at a time, penning travel pieces, short stories, and two novels before settling permanently in London in 1876.
By this point, James had begun to explore one of his major preoccupations, which came to be known as "the international theme": the drama that results, both comic and tragic, when Americans encounter Europe—or, sometimes, when Europeans travel or live in America. James's first major novel, The American, serialized in 1876 and 1877, took up this theme, dramatizing the experiences of an American businessman in Paris whose ignorance and energy clash with the murky complexity of European aristocracy.
James truly asserted the importance of the international theme with his 1878 story "Daisy Miller." A study of the problems that occur when people confuse manners with morals, "Daisy Miller" tells the story of an American girl who rebels against local customs while traveling in Europe, with fatal consequences. By contrasting innocent American willfulness with the judgments of Europeans and American expatriates, James highlights the complex ways Americans and Europeans misunderstand each other. A transatlantic sensation, "Daisy Miller" was controversial among Americans, some of whom questioned James's patriotism and objected to the book for its portrayal of young American women. Today "Daisy Miller" remains perhaps James's most widely read work and an accessible, compelling introduction to the late 19th-century culture clash he depicted so meticulously.
In this early phase of James's career, his interest in the international theme culminated in The Portrait of a Lady. Serialized in magazines before being published as a book in 1881, the novel tells the story of Isabel Archer, a spirited American woman in England who rejects would-be suitors, valuing her freedom above all, before entering into an ill-fated marriage. Praised for its complex, realistic presentations of its characters' inner lives, The Portrait of a Lady portrays American expatriates corrupted and undone by Europe and has been praised for showing the price of experience and the disillusionment and personal disaster that can result when an American zeal for freedom is intertwined with naiveté and pride.
As his career progressed, James explored a wide array of themes and subject matter. He was particularly interested in the relationships between fathers and daughters, and his 1880 novel Washington Square, marked by short, clear scenes, strong characters, and heightened dialogue, remains a memorable account of a father and a daughter locked in an irresolvable battle of wills. James also used fiction to portray the women's movement in the United States in The Bostonians and, in an unusual departure, to dramatize anarchist terrorism in working-class London in The Princess Casamassima.
During the 1890s, James explored the literary potential of ghost stories, portraying the supernatural with eerie, sinister subtlety. "The Turn of the Screw," published in 1898, is the most memorable of his several supernatural tales. The novella is narrated by a governess who investigates two ghostly figures that seem particularly interested in the children in her care. Masterfully imbued with a sense of dread as well as a deliberate ambiguity that has challenged and unnerved readers for more than a century, "The Turn of the Screw" still prompts debate about the nature of the unnamed evil the ghosts represent and the reliability of the narrator herself.
In the final phase of his career, James returned to the international theme, crafting several novels that showcase his writing and his intellect at their most mature—and their most demanding. Like his understanding of the cultural interplay between Americans and Europeans, the prose in these novels is often dauntingly complex, reflecting James's attempt to observe human behavior closely and convey his characters' inner lives in minute detail. In his 1902 novel The Wings of the Dove, a young American heiress in England stricken with a fatal illness is taken advantage of by the people around her. In James's 1903 masterpiece The Ambassadors, a middle-aged American man travels to Europe at the behest of his fiancée, presumably to rescue her son from a woman she believes must be bad for him. After exploring a dizzying social world that challenges and changes him, the novel's protagonist finds himself affirming the importance of living as fully as possible.
James's last major novel, The Golden Bowl, focuses on a close-knit American father and daughter in Europe who both marry at the same time without knowing that their spouses have been lovers—and may still be. Some readers have criticized the novel for being slow and overly analytical, while others have argued that it repays the patient reader with its delicacy, representing the brilliant final expression of James's lifelong effort to dramatize the intricacies of human experience.
All in all, James's literary output was prodigious: 20 complete novels, more than 100 shorter pieces of fiction, several plays, and hundreds of shorter works and articles, including travel observations, literary criticism, and theater reviews.
James's 1884 essay "The Art of Fiction" remains a particularly memorable touchstone in literary criticism that illuminates his own sense of purpose. In this engaging and enthusiastic essay, James insists that being faithful to reality is vital, and that writers and artists should work to understand life. He further argues that the novel is a legitimate art form to be judged by the standards the writer establishes. Protesting censorship and prudishness, he defends the right of women to write about serious subjects and insists that novelists should not feel restricted either in their choice of subject matter or in their approach to it; they should be judged only by the execution.
Frustrated by American neutrality as World War I raged, James expressed his support for England in July 1915 by becoming a British subject. In December 1915, he suffered a debilitating stroke. One month later, he received the Order of Merit from the King of England; it was delivered to him at his bedside. He died in London on February 28, 1916, shortly before his 73rd birthday.
During James's lifetime, readers were often drawn to his novels and short stories for their accounts of passionate friendships, love affairs, and marriages that were unhappy and rife with conflict; his contemporaries also admired his realistic and thoughtful portrayals of women, especially strong, autonomous heroines failed by men and betrayed by other women. His eye for human nature has stood the test of time; interest in his work surged in the 1930s and continues to this day. His novels and stories inspired numerous stage and radio adaptations, followed more recently by major television versions and Hollywood films, confirming that our distance from the bygone cosmopolitan society he described makes the human conflicts he explored no less relevant, illuminating, and engaging.
To the great benefit of generations of writers and readers, he also inspired the adjective "Jamesian"—a word that sometimes refers to the work of his brother, psychologist and philosopher William James, but just as often describes the virtues of Henry James's writing: the intricacy and delicacy of his language, the depth of his insights into human behavior, and his commitment to showing things as they are, in all their challenging complexity.
The words "THREE OUNCE" on this stamp indicate its usage value. Like a Forever® stamp, this stamp will always be valid for the rate printed on it.