Updated December 3rd: The following Scott catalogue number has been assigned:
5153 (47¢) Hanukkah
Updated October 3rd: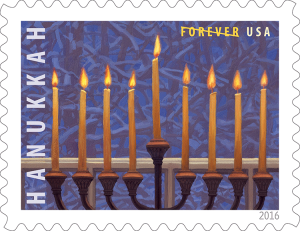 On November 1, 2016, in Boca Raton, FL, the U.S. Postal Service will issue the Hanukkah stamp (Forever priced at 47 cents), in one design, in a pressure-sensitive adhesive (PSA) pane of 20 stamps (Item 559900).
The stamp will go on sale nationwide November 1, 2016.
Hanukkah spans eight nights and days of remembrance and ritual. The U.S. Postal Service joins the celebration with a new Hanukkah stamp in 2016. The stamp art depicts a menorah in the window of a home, viewed as if from inside a room. The white window trim is visible through the branches of the menorah, which echo the tangle of snow-covered tree branches beyond the glass. In 2016, Hanukkah begins at sundown on December 24. Art director Ethel Kessler designed the stamp with original art by William Low.
Stamp Fulfillment Services will not make an automatic push distribution to Post Offices.
How to Order the First-Day-of-Issue Postmark:
Customers have 60 days to obtain the first-day-of-issue postmark by mail. They may purchase new stamps at their local Post Office, at The Postal Store website at http:⁄⁄www.usps.com⁄shop, or by calling 800-782-6724. They should affix the stamps to envelopes of their choice, address the envelopes (to themselves or others), and place them in a larger envelope addressed to:
Hanukkah Stamp
Stamp Fulfillment Services
Cancellation Services
8300 NE Underground Drive, Pillar 210
Kansas City, MO 64144-9998
After applying the first-day-of-issue postmark, the Postal Service will return the envelopes through the mail. There is no charge for the postmark up to a quantity of 50. There is a 5-cent charge for each additional postmark over 50. All orders must be postmarked by January 1, 2017.
There are seven philatelic products for this stamp issue:
559906 Press Sheet with Die-cut, $75.20.
559910 Digital Color Postmark Keepsake, $11.95.
559916 First-Day Cover, $0.91.
559921 Digital Color Postmark, $1.62.
559924 Framed Art, $19.95.
559930 Ceremony Program, $6.95.
559966 Notecards (set of 10), $15.95.
Technical Specifications: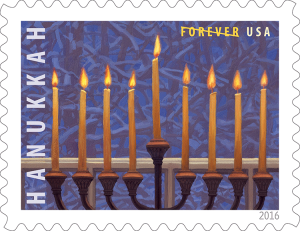 Issue: Hanukkah Stamp
Item Number: 559900
Denomination & Type of Issue: First-Class Mail Forever
Format: Pane of 20 (1 design)
Series: Holiday Celebrations
Issue Date & City: November 1, 2016, Boca Raton, FL 33432
Designer: Ethel Kessler, Bethesda, MD
Art Director: Ethel Kessler, Bethesda, MD
Typographer: Ethel Kessler, Bethesda, MD
Artist: William Low, Huntington, NY
Modeler: Sandra Lane⁄Michelle Finn
Manufacturing Process: Offset, Microprint
Printer: Banknote Corporation of America
Printed at: Browns Summit, NC
Press Type: Alprinta 74
Stamps per Pane: 20
Print Quantity: 15 million stamps
Paper Type: Phosphor Tagged Paper, Overall
Adhesive Type: Pressure-sensitive
Processed at: Banknote Corporation of America, Browns Summit SC
Colors: Cyan, Magenta, Yellow, Black, PMS 7443 Lavender
Stamp Orientation: Horizontal
Image Area (w x h): 1.05 x 0.77 in.⁄26.67 x 19.56 mm
Overall Size (w x h): 1.19 x 0.91 in.⁄30.22 x 23.11 mm
Full Pane Size (w x h): 5.64 x 5.43 in.⁄143.12 x 137.79 mm
Press Sheets Size (w x h): 22.54 x 10.85 in.⁄ 572.52 x 275.59 mm
Plate Size: 320 stamps per revolution
Plate Numbers: "B" followed by five (5) single digits
Marginal Markings:
Front: Plate numbers in four corners of pane
Back: © 2015 USPS • USPS logo • Plate position diagram • Barcode (559900) in upper right and lower left corners of pane • Promotional text
Updated October 1st: Here is the DCP for this issue: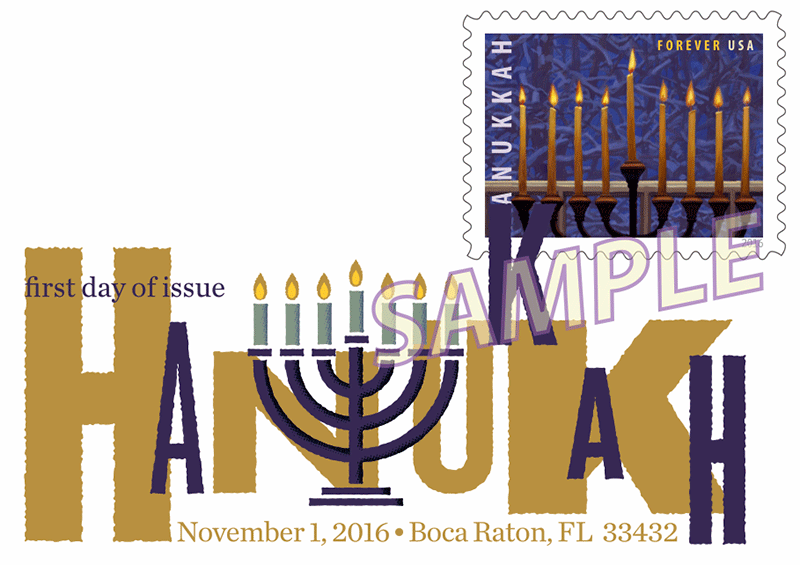 This postmark measures 2.73"x1.29".
Updated September 22nd: Here is the first-day ceremony information from the USPS:
Hanukkah
11 a.m. Tue., Nov. 1
Temple Beth El of Boca Raton
333 SW 4th Ave.
Boca Raton, FL 33432
Reservations are not necessary to attend this ceremony. Note the first-day date change.
Updated February 25th, from the USPS:
This stamp will be issued Thursday, October 6th, in New York at the American Stamp Dealers Association Fall Postage Stamp Show 2016.
From the USPS:
FDOI: Information to come. (4th Quarter – October?)
Format: Pane of 20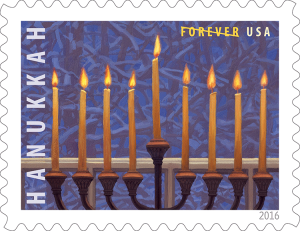 The 2016 Hanukkah stamp features a warm, elegant illustration of a holiday menorah in the window of a home.
Traditionally, the menorah is displayed in a doorway or window to proclaim the miracle of Hanukkah. The menorah is viewed as if from inside a room, looking through a window to the outside. The candles—one for each of the eight nights and days of Hanukkah, and the ninth, the shamash or "servant," used to light the other candles—are a creamy white and have all been lit.
The artist added visual interest to the scene by highlighting the contrast between the hot candle flames and the cool snow, the vertical candles and the horizontal window frame, and the dark menorah with the brightly lit candles.
Art Director: Ethel Kessler
Artist: William Low