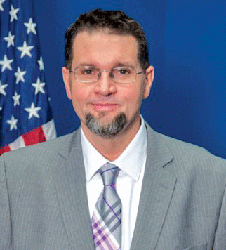 The American Philatelic Society, the largest stamp collecting organization in the U.S., has chosen Scott English to be its executive director. He officially starts August 10th. The full APS press release is below.
According to his Linked In profile, Scott English is currently Chief of Staff to Rep. Mark Sanford of South Carolina. The S.C. governor he served as Chief of Staff was also Stanford. In between, he was Chief Operating Officer for the South Carolina Department of Education for exactly the same period that APS vice president Mick Zais was Secretary of Education in that state.
"I encouraged him to apply," Zais told The Virtual Stamp Club. "I explained to him why it would be a good fit."
Although English is not a philatelist himself, "he kind of knew [what the APS was] because I would disappear for a couple of weeks every summer for Americover and StampShow," Zais added.
Zais chaired the search committee, but wasn't involved in choosing English, he said. They were talking on the telephone one day, when Zais mentioned he was chairing the committee. English asked for more information, because he wanted to move closer to home and where his and his wife's families live (Maryland). English also told Zais he wanted to get out of politics.
Zais says he told the other members of the search committee "up front that I knew him."
There were initially 33 applicants for the executive director position. The professional search firm screened them, and narrowed the field down to 15. That smaller group was interviewed via FaceTime, and six candidates were referred to the search committee chaired by Zais. That panel interviewed the candidates using GoToMeeting.com and brought two candidates to Bellefonte for in-person interviews and to meet the staff. —LdeV
[press release]
American Philatelic Society Announces
New Executive Director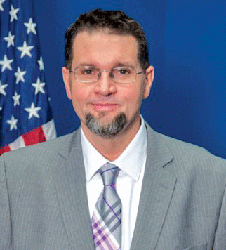 Bellefonte, PA — The American Philatelic Society (APS) announced today the hiring of Scott English as its new executive director. Scott has an extensive record of success leading large organizations with multiple constituencies, as well as working with volunteers and fundraising.
As the Chief of Staff to a former Governor of South Carolina, he oversaw operations and policy for 15 cabinet-level agencies, more than 200 boards and commissions, and the Executive Office of the State. His effectiveness in harnessing the energy and enthusiasm of volunteers and the generosity of donors was critical in this position.
As Chief Operating Officer for South Carolina's Department of Education, he oversaw the operation of a staff of more than 800 providing oversight for 82 school districts, 1,250 schools, 52,000 teachers, and 720,000 students, while supervising the execution of a $4 billion annual budget.
APS President Steve Reinhard stated, "We are enormously pleased that a man of Scott's experience and talent will be our new executive director. We expect he will make major contributions improving services to our 31,000 members as well as outreach to other philatelic organizations, both in the United States and abroad.
Scott commented, "It's an honor to join the American Philatelic Society as Executive Director. This organization has a rich tradition, with a dedicated staff and members who share a great passion for stamp collecting. My first priority is meeting as many members as possible in the coming months and learning how the APS can best serve them. I also want to learn how the APS can effectively partner with other organizations with similar interests." He added, "My family and I are looking forward to moving to Centre County. It is clearly a wonderful place to live. My wife and I will also be closer to our childhood homes and parents."
Ken Martin, the previous Executive Director, has been offered the position of Chief Operating Officer. In this capacity the APS will continue to benefit from his tremendous experience in the APS and his extensive knowledge of the hobby.
Scott will begin work on August 10, 2015.