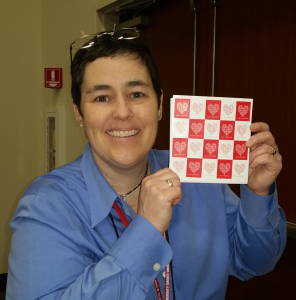 Dana Guyer, director of Shows & Exhibitions for the American Philatelic Society, will become the executive director of the American Stamp Dealers Association, effective March 1. Guyer confirmed the hiring to The Virtual Stamp Club.
She is shown here with a sheet of Forever Hearts stamps issued at AmeriStamp Expo 2015, her last show for the APS. (Photo courtesy Michael J. Luzzi and used by permission.)
Guyer is currently busy with preparations for APS' AmeriStamp Expo show in Riverside, California next month (February 13-14).
She will be the second APS Shows & Exhibitions director to move up within philately. Her predecessor, Ken Martin, left that post to become Deputy Executive Director and is now Executive Director of the APS.
"We wish Dana well and hope that she and the ASDA have a very successful
future," Martin told The VSC in e-mail.
This looks like a good move for the ASDA, because one of its primary functions is staging major stamp shows, particularly the two annually in New York City. Last fall's show at the New York Hilton celebrated the organization's 100th anniversary, but also proved to be a money-loser. Its executive director was fired soon after. The April 16-18 show in NYC will again be at the Hilton, but at a smaller, less expensive, venue within the hotel.
Ironically, the ASDA is staging a show in Fort Lauderdale, Florida, on the same weekend as AmeriStamp Expo.
As for the APS, it now has a job opening.
"The job announcement should be posted on the APS website by mid next week," Martin said. "We will publicize the opening in the e-newsletter that should go out late next week and have an ad in the March American Philatelist. Applications will be accepted until March 18."