Canada Goes For The Bigger Picture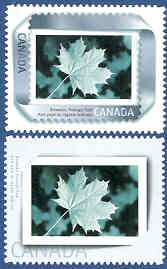 While Stamps.com is licking its wounds over the U.S. personalized stamp program — Linn's Stamp News reports it's unlikely to get approval to continue its PhotoStamps — Canada Post is making three major changes or "upgrades" to its picture postage program.

"Certainly, the most exciting one for our customers is the online capacity," expected to be operational by the end of October, Canada Post spokeswoman Cindy Daoust told The Virtual Stamp Club.

"We've rebranded it a little bit with a new look, again in response to our customers' demand and our customer comments, reducing five frames [choices] down to two, but they're very contemporary, very sleek frames, really, really pretty," she said.

The second change may be the most significant. The new picture postage stamps are one-piece items: Canada Post actually prints your picture on a stamp. Before, you had to assemble the stamp yourself, from a frame supplied by the postal agency and small pictures it printed for you.

The third upgrade is souvenir capability. Customers had told Canada Post the stamps were too nice to use on the mail.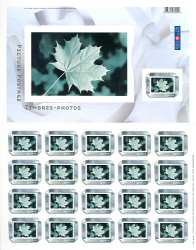 "You can order a keepsake sheet, which not only gives you your 20 picture postage stamps, but also a 5- by 7 enlargement of your picture postage image ... so you can use your stamps, but then keep the keepsake portion for a souvenir," Daoust said.

Has Canada Post run into problems like those in the U.S.?

"Well, I never say never," she replied. "We've been doing this for four years. We launched the program back in the Spring of 2000, so I'm sure somebody somewhere is chuckling that they've passed something through, but in all honesty, no, we've been very, very diligent in our review, and it would seem that for the most part, our customers have appreciated and respected the boundaries of good taste and the law.

"When you order picture postage, you certify that you have copyright to the picture, and we review them through several stages in the production of the postage for the boundaries of good taste and appropriateness. And, no, in all honesty, we haven't had any problem with that," Daoust said.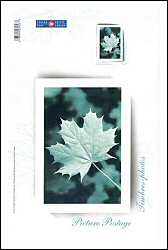 If slipped one by...?

"I don't know that it's a matter of 'upset,' as it's a matter of that's not the purpose of the program," Daoust replied. "We had a journalist not too long ago who put us to the test and we passed with flying colors. Some of the pictures he presented to us were of people who are somewhat in the news, but not necessarily well-known face-wise, and we passed with flying colors."

Why has the U.S. had so many problems?

"I wouldn't speculate on that. Again, I'm just happy that we haven't had those problems," she said.

However, when pressed, she said, "I guess the obvious answer is probably sheer volumes. You're quite a significantly larger country than we are, and perhaps just the sheer volumes was presenting a problem, but I don't know..."

"We're thankful here that for the most part our customers have appreciated the opportunity to commemorate their weddings and the births of their children and their pets on picture postage and have utilized it for that purpose."




---
Virtual Stamp Club Home Page