Egg On Their PhotoStamps
Spies, dictators and terrorists on your mail? It's been done.

You knew it was going to happen: One reason the U.S. Postal Service held off on personalized stamps was that it was afraid someone would try to slip one by 'em. But this summer, it gave the green light to a private company, to produce what it calls "PhotoStamps" — and, sure enough, someone slipped one by 'em — at least nine of 'em.

The Smoking Gun Web site obtained stamps for convicted spies Julius and Ethel Rosenberg, the Unabomber, Monica Lewinsky's infamous blue dress and other not-so-great moments in U.S. history, and threw in a couple of foreign dictators and other undignitaries, too. It even used one of the gag stamps in the mail.

The same day that The Smoking Gun revealed its spurious stamps, Stamps.com, the producer of PhotoStamps, was boasting that it had sold 40,000 sheets of them in less than a month.

The Smoking Gun says Stamps.com's censors did catch proposed stamps for Lee Harvey Oswald, Salvatore "Sammy Bull" Gravano, and Unabomber Ted Kaczynski — but it successfully ordered stamps with two other photos of Kaczynski, from his high school and college yearbooks.

"The only people truly worthy of stamps are statesmen (George Washington, Benjamin Franklin), civil rights leaders (Martin Luther King Jr., Thurgood Marshall), and cartoon characters (Wile E. Coyote, Jiminy Cricket)," said TSG, perhaps with tongue in cheek.

Shown here are the nine stamps TSG managed to get through: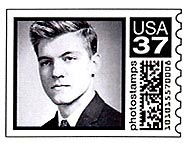 Two yearbook photos of Unabomber Ted Kaczynski, above and below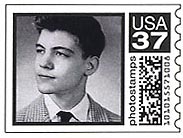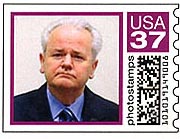 Former Yugoslavian president Slobodan Milosevic, now on trial for war crimes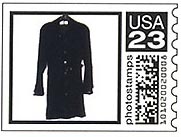 Monica Lewinsky's blue dress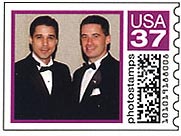 New Jersey Gov. James McGreevey and friend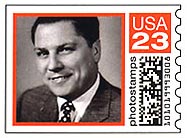 Late labor leader Jimmy Hoffa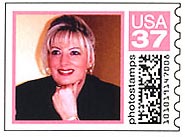 Best Friend Of The Year Linda Tripp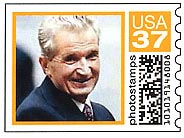 Former Romanian dictator Nicolae Ceausescu


USPS officials had told The Virtual Stamp Club several years earlier that personalized stamps would be a much bigger undertaking in a large, diverse country like the U.S. than in a smaller country like Australia. The USPS would want to have some control over just what pictures could appear on stamps.

As one wag put it, letters with such stamps would be "self-obsessed stamped envelopes."

Then the USPS licensed Stamps.com for a two-month trial of PhotoStamps and, with the license, gave Stamps.com responsibility for screening subjects. (It says it now has increased its vigilance. Still, one wonders how many people would know who Nicolae Ceausescu was, much less recognize his photograph. And there's no end to famous scoundrels for whom photographs can be obtained.)

The mass media immediately jumped on the story, both about the personalized stamps for Uncle Tommy and Fido, but then also about the spoof stamps.

Wilson Hulme, curator of the Smithsonian's National Postal Museum told CBS News he's not outraged by The Smoking Gun's perverse personal postage.

"I think it's fun, exciting," he said. "I don't see it as a huge problem at all, people are free to express whatever they want."

"Even if it's Monica's dress?" asked correspondent Wyatt Andrews.

"Well it wouldn't be my choice, but yes, absolutely," replied Hulme.

An interesting, and presumably less controversial use of PhotoStamps, was made by VSC member StampsJoann: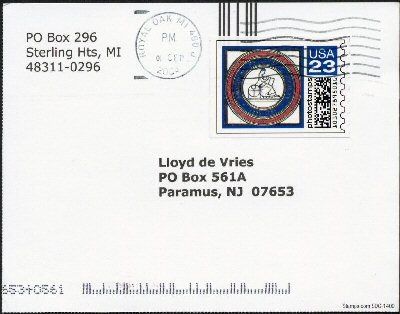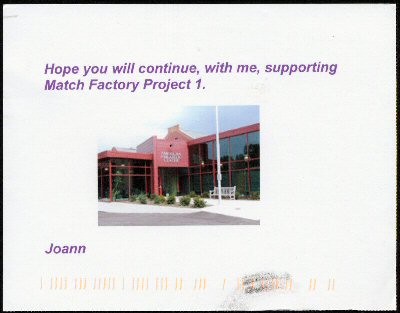 For the latest on PhotoStamps, as well as VSC members' comments, click here.

To hear an audio report, click here.

And for an opinion on the media hype surrounding PhotoStamps (text and/or audio), click here.


---
Virtual Stamp Club Home Page