Year 2000 Postage Stamp Helps Celebrate New Year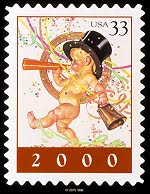 [press release]
WASHINGTON - A new special postage stamp honoring the year 2000 will be issued Dec. 27 by the U.S. Postal Service in time for many New Year's revelers to send cards, letters and packages posted with a little extra celebratory cheer.

"The Year 2000 stamp will serve as a historical record of a unique period of time in our country," said Postmaster General William Henderson. "This colorful stamp will also help bring a little joy and excitement to that unique moment in everyone's day when we go through our mail."

Based on artwork by American illustrator J. C. Leyendecker (1874-1951), the 33-cent stamp hails the beginning of the year 2000 with a traditional image of a baby ringing in the New Year. This New Year's baby originally appeared on the cover of the Jan. 2, 1937, issue of The Saturday Evening Post. Leyendecker illustrated covers featuring the New Year's baby for The Saturday Evening Post for nearly 40 years, and contributed more than 300 covers overall during his career. He also served as a role model for the young Norman Rockwell.

The New Year's baby depicted amidst streamers and confetti on the Year 2000 stamp is wearing a top hat, blowing a horn and ringing a cowbell. A metallic circle appearing behind the baby is a design element of the original magazine cover. A bar reading "2000" and a solid line framing the image are design elements unique to the stamp. Leyendecker's highly stylized signature is visible beneath the cowbell.

Also available as a year 2000 keepsake is the 2000 Commemorative First Day Cover Set containing a first day of issue cover featuring the Year 2000 stamp (an envelope with the stamp affixed, cancelled with a postmark denoting the first day of issue date and city) and two commemorative covers.

One commemorative cover will be postmarked with the Dec. 31, 1999, "New Year's Eve Station" pictorial cancellation and the other will be postmarked with the Jan. 1, 2000, "Celebrate 2000 Station" cancellation. All cancellations will reflect Washington, D.C., as the official first day of issue city.

The 2000 Commemorative First Day Cover Set is item number 562063 and will be available via mail order by phone, at 1 800 STAMP-24, and online, at www.stampsonline.com.

The New Year's Eve Station and Celebrate 2000 Station pictorial cancellations will also be used to postmark mail at participating post offices across the country.
---
Virtual Stamp Club Home Page