Wash 2006 Distributes $265K Of Surplus
The Washington 2006 exhibition Saturday evening announced it is distributing $265,000 of its surplus to the American Philatelic Society, its successor New York 2016, Stamp Camp, the National Postal Museum and others.

The awards were announced by Michael Dixon, president of Washington 2016, vice president Steve Luster and CEO Gordon Morison.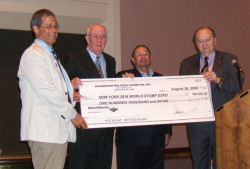 The largest donation, $100,000, was "seed money" for New York 2016, something the Washington organizers did not receive from their predecessors, Pacific 97, which lost money. Morison, Luster and Dixon presented a mock-up of the check to New York 2016 chairman Wade Saadi.

Why a mock-up? Because Washington 2006 could only make donations to 501(c)3 not-for-profit organizations. Other groups were considered, but had to be rejected. New York's organizers will receive a real check when their organizing committee gets 501(c)3 status from the IRS.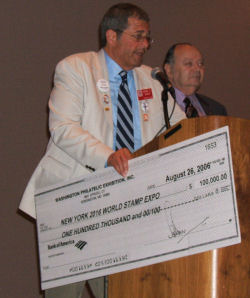 At left, Saadi accepts the donation.

Dixon also explained that the Washington 2006 board decide to disburse all of its surplus by Stampshow 2007 next August, rather than hold it for "40 years," as he said some previous shows have done. He may have been referring to the World Columbian Exposition of 1992, which Saturday evening donated $2,500 to the Dodie and Bud Hennig Room at the APC, as well as $5,000 to the Arizona Philatelic Rangers for a new, paid teaching position in youth philately.

Rangers chief John Birkenbine explained that the Columbian contribution would be added to a permanent endowment fund; only its interest can be spent.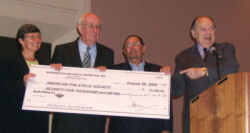 The APS was offered a $75,000 matching grant by Washington 2006 for moving and setting up the Headsville Post Office, on loan from the Smithsonian's Museum of American History, at the APC. APS President Janet Klug accepted the mock-up from Morison, Luster and Dixon.

This one is a mock-up because the APS only receives the money if other donations are received for this project.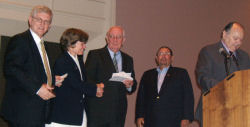 A real check for $25,000 was presented to National Postal Museum curators Wilson Hulme and Cheryl Ganz for its philatelic programs, but especially for its Arago Internet system which enables collectors throughout the world to access the NPM collections.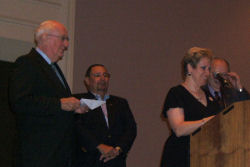 Stamp Camp USA also got a real check, for $50,000. It was accepted by director Cheryl Edgecomb, a postmaster who said she was inspired when, at a meeting about the Ben Franklin Stamp Clubs for kids some 20 years ago, then-Assistant Postmaster General for Philately Gordon C. Morison wrote her a note that said "Great job."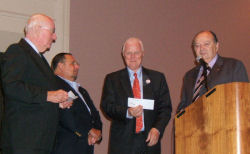 Grants of $5,000 each were made by Washington 2006 to three Virginia groups: the NAPEX show in Northern Virginia, represented by Nick Carter, who serves as treasurer of both Washington 2006 and NAPEX; the Virginia Philatelic Federation; and the Springfield Stamp Show. A press release from Washington 2006 notes that both the Virginia federation and Springfield lent their exhibit frames to the international exhibition.


---
Virtual Stamp Club Home Page