Andy Warhol Dedication Ceremony
(Click Pictures for a Larger View)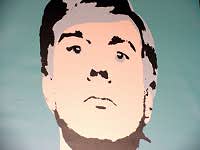 Pittsburgh, Pennsylvania is most famous for being a steel town and the hometown of Andy Warhol. On Friday, August 9th at 5:30pm, the Andy Warhol Museum dedicated a new postage stamp featuring a self-portrait of Warhol.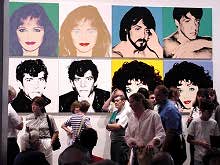 The stage was set at the entrance of the museum. The stamp enlargement, surrounded by a neon green light, stood out among the various Warhol paintings along the wall. Seating for the ceremony was standing room only as there were only 30 chairs provided to the public and well over 250 people in attendance. The atmosphere seemed like an opening for a new gallery at a museum, which was very fitting for this occasion. Numerous artists and local residents were in attendance, easily outnumbering the stamp collectors there. The museum even had a cash bar set up at the ceremony. Chris Lazaroff from Ohio, who has attended over 110 ceremonies in 40-plus states, commented that he had "never seen a cash bar at a first day ceremony before."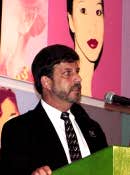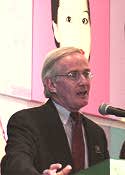 Senior Plant Manager for the Pittsburgh Performance Cluster of the U.S. Postal Service Sean Lacey (left) introduced the distinguished guests which included the ceremony participants, local elected officials, and Andy Warhol's two brothers and family. He continued to give a brief talk on Warhol, commenting that Andy "changed the cultural status quo with his paintings."
Mayor of Pittsburgh and philatelist Thomas Murphy (right) recognized Warhol as a Pittsburgh native and proclaimed August 9th as Andy Warhol Day for the city.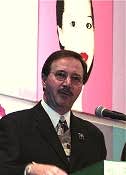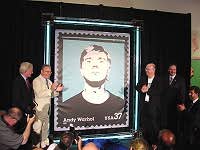 Vice Chairman of the Board of Governors for the U.S. Postal Service S. David Fineman was unable to attend so Vice President of the Eastern Area for the U.S. Postal Service Gary McCurdy (left) filled as the dedicating official. Mr. McCurdy dedicated the stamp, saying that "the Postal Service's stamp program offers Americans a diverse sampling of history, art and entertainment marking important milestones in the development of our nation." The ceremony participants were then asked to join him on stage to unveil the stamp (left).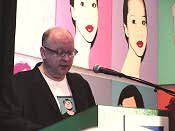 Director of the Andy Warhol Museum Thomas Sokolowski was then asked to say some remarks about Andy Warhol's life. Mr. Sokolowski began by asking the audience to look at a coin and what it represents. A coin, he said, is a time memorial to one's life that usually features an emperor or president and is made of metal that holds some value. He stated that Andy would have found it extraordinary that the U.S. Postal Service chose him to be on a stamp that would carry letters around the nation, and that in an indirect way, marks a nation with the use of his stamp.
He explained that Andy liked to paint pictures of famous people, stating "just look around," in reference to the portraits on the wall. Continuing he said, Andy Warhol grew up in poverty but through hard work he became somebody. He stated that Andy did this not by conventional means, but by causing trouble. Mr. Sokolowski went on to state that without artists, this world would not be the same.
He added a touch of politics, commenting that artists are not able to donate paintings to charities without getting a fair tax write off. Additionally, he commented, somewhat inappropriately for a stamp ceremony, that the "person who is second in line for the presidency fails to recognize that his daughter is a lesbian." He added that diversity in our country needs to be embraced and that this makes America America.
Before concluding his speech, he started to sob as emotion overcame him over such an honor to have an Andy Warhol stamp.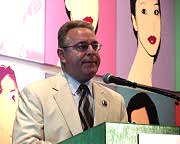 President of the Andy Warhol Foundation for the Visual Arts Joel Wachs briefly commented on how the Foundation was excited that the U.S. Postal Service chose to honor such an artist who "represents America." The comment was made that the museum would have been in New York City, but the city of Pittsburgh supported it and that is why the museum is here today.
The ceremony was concluded by Sean Lacey and no organized autograph session took place as a couple of the participants needed to leave right away. However, most stayed around to autograph programs at the front of the stage. To say the least it was definitely an "interesting" ceremony.
Jay Bigalke
©2002 Text and Photos
---
Virtual Stamp Club Home Page