Remarkable Lives: Reason and Inspiration
The first day of issue for these stamps is March 25, 2014. Here's more from the
Royal Mail press release:



Royal Mail celebrates another selection of remarkable individuals from the realms of sport, design, economics, heroism and the arts. The set commemorates individuals whose anniversaries of birth fall in 2014.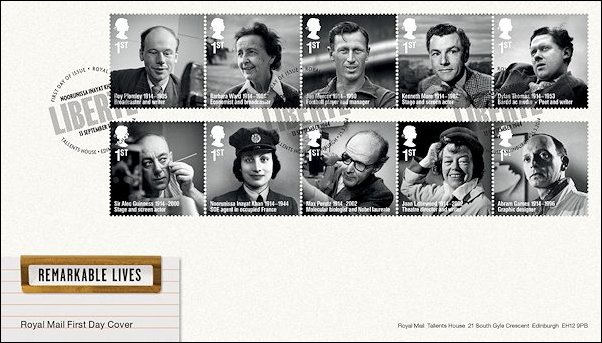 (Click for a Larger View)



Royal Mail's Special Stamps are world famous for celebrating those who have made a significant contribution to our great British way of life. This set is centred around individuals who share an anniversary – in this issue they were all born 100 years ago. We have found this to be a popular set with our core collectors and with interest groups and organisations with an affinity with the different personalities.

It has also proved to be a useful way to broaden the scope of people we mark in the stamp programme and increase the representation of women, diversity and cultural backgrounds. It also enables us to meet the expectations of some of the many lobby groups that request stamps on specific individuals.

The 'Remarkable Lives' stamp issue comprises ten 1st Class stamps:
Roy Plomley 1914–1985, Broadcaster and writer
Barbara Ward 1914–1981, Economist and broadcaster
Joe Mercer 1914–1990, Football player and manager
Kenneth More 1914–1982, Stage and screen actor
Dylan Thomas 1914–1953, Poet and writer
Sir Alec Guinness 1914–2000, Stage and screen actor
Noorunissa Inayat Khan 1914–1944, Special Operations Executive (SOE) agent in occupied France
Max Perutz 1914–2002, Molecular biologist and Nobel laureate
Joan Littlewood 1914–2002, Theatre director and writer
Abram Games 1914–1996, Graphic designer
Previous stamp issues in this series:
October 2009 – Eminent Britons
February 2012 – Britons of Distinction
April 2013 – Great Britons
Technical details:
Number of stamps: Ten
Design: Purpose
Stamp format: Square
Stamp size: 35mm x 35mm
Printer: International
Security Printers
Print process: Lithography
Perforations: 14.5 x 14.5
Number per sheet: 25/50
Phosphor: All over
Gum: PVA
Roy Plomley 1914–1985, Broadcaster and writer:
Roy Plomley took Desert Island Discs on air in 1942. His simple, elegant idea was to invite guests from different professions and spheres of public life to select eight pieces of music – the 'discs' – that they would want with them if stranded on an imaginary Caribbean island. The radio show, introduced with the theme tune 'By the Sleepy Lagoon', came to British households in the midst of the Second World War, offering a much-needed insight into lives lived beyond the everyday. Plomley presented the programme for 43 years. On the guest list were many notables, including royalty and five prime ministers, and Plomley himself was a 'castaway' twice. He was awarded an OBE in 1975. Roy Plomley was born in Kingston, Surrey. After working at an estate agency and then in advertising and publishing, he moved on to acting and radio announcing for a rival to the BBC. Escaping France with his wife ahead of the occupying forces, he lived in Hertfordshire, where Desert Island Discs was born. This, the longest-running radio entertainment show, is a living database of international cultural history – a rich crew of individuals, revealed in all their charm and idiosyncrasy through music and words.

Barbara Ward 1914–1981, Economist and broadcaster:

Barbara Ward saw that for the world to survive and to thrive, fair sharing of resources and wealth was imperative. With her husband Robert Jackson, an administrator for the United Nations, she observed significant projects in India and Africa, where she realised the importance of economic relationships between established and emerging countries. A passionate and powerful intellectual, as well as a prolific writer and lecturer, Ward worked tirelessly to influence policy makers, persistently reminding them of their international responsibilities. Barbara Ward was born at Heworth, Yorkshire, into a family founded in the Catholic and Quaker faiths. She studied in Paris and Oxford, and her career spanned from wartime work at the Ministry of Information to journalism at The Economist and the Schweitzer Professorship of Economic Development at Columbia University, USA. Ward helped inspire the European Union and is known as a pioneer of global environmental issues. In 1974 she was made a Dame of the British Empire and two years later became Baroness Jackson of Lodsworth. She also received the Jawaharlal Nehru Award for International Understanding from the Government of India. She co-authored 'Only One Earth' for the 1972 UN conference on Human Development which was a landmark publication that invented the ideas of 'sustainable development'.

Joe Mercer 1914–1990, Football player and manager:
Joe Mercer embodied charm, sporting values and humble good humour combined with great skill throughout a 50-year career in football as player and manager. Seemingly always smiling, he was a distinguished competitor for England, Everton and Arsenal, captaining the latter team in two FA Cup finals and two League championships. After retiring from the pitch, Mercer managed Sheffield United, Aston Villa and Manchester City, leading this last team to victory in the FA Cup, European Cup Winners' Cup and Football League Cup. Born in the Wirral, the son of a professional footballer, Joe Mercer joined Ellesmere Port as a teenager. He made a reputation on the turf in the 1930s and during the Second World War was a physical training instructor and participant in British Army football across Europe. Mercer won three championship medals, an FA Cup winners' medal, as well as five full and 22 wartime international caps. He was voted Footballer of the Year in 1950 and awarded an OBE. The legacy of 'Uncle' Joe Mercer lies in how fondly and respectfully he is remembered by many in the sport.

Kenneth More 1914–1982, Stage and screen actor: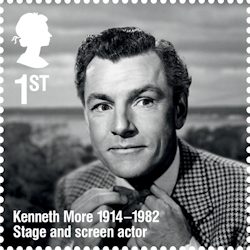 Kenneth More was the actor who made the character of the middle-class Englishman his own. His career was founded upon carefully crafted roles which explored this seemingly banal individual, to communicate comedy and tragedy equally well. More became widely known as the driver of a veteran motor car in Genevieve of 1953. Subsequently, he portrayed the Second World War pilot Douglas Bader in Reach for the Sky. More starred in several highly regarded films and television series, including Doctor in the House, The 39 Steps, The Forsyte Saga and Father Brown, and was one of the most popular British and international stars from the late 1950s through the 1970s. Born in Gerrards Cross, Buckinghamshire, More was educated on the island of Jersey. After some training as a civil engineer and an abortive attempt to become a fur-trapper in Canada, he took a job at the Windmill Theatre in London. Here his stage career began: he started to appear in comic interludes between the risqué shows. His ability to distil the characteristics of the Englishman led him to act for Noël Coward and to be selected for Terence Rattigan's premiere of The Deep Blue Sea.

Dylan Thomas 1914–1953, Poet and writer: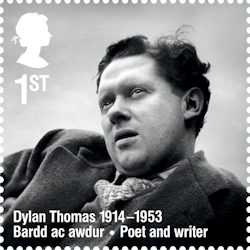 In his short life, Dylan Thomas navigated a stormy course through modern literature, evoking the brilliance and pathos of human existence along the way. With rich imagination, he crafted poems, prose and drama presenting universal visions of everyday lives. Thomas's most well-known text is the radio drama Under Milk Wood, which was later filmed starring Richard Burton, Elizabeth Taylor and Peter O'Toole. He is also acclaimed for poems such as 'And Death Shall Have No Dominion' and 'Do Not Go Gentle into That Good Night', the latter written about his dying father. Dylan Thomas was born in Swansea to a teacher of English literature and a seamstress. He published his first poems as a teenager and worked as a freelance journalist before being taken up by the literary world from 1934. He gained a reputation as a flamboyant saloon-bar poet on the London scene, but he also wrote scripts for the Ministry of Information and the BBC and tirelessly performed his work (and that of others) for radio. He died in New York while on a performance tour, aged 39.

Sir Alec Guinness 1914–2000, Stage and screen actor: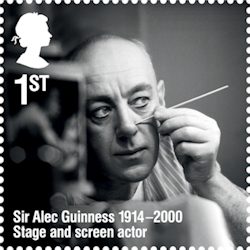 Sir Alec Guinness first acted on screen in 1946, in Great Expectations for David Lean, beginning an extraordinary film career that would see him cast in a multitude of roles, including eight related characters in Kind Hearts and Coronets, a Jedi Knight in the original Star Wars trilogy and John le Carré's master spy George Smiley in two television series. Guinness's many memorable performances range from a colonel in The Bridge on the River Kwai to several mischievous personalities in dark comedies made by the quintessentially British Ealing Studios. Born in London, to Agnes Cuffe, Guinness began life in poor circumstances, but his determination to act was encouraged by John Gielgud. By the late 1930s, he was regularly appearing in classic plays, under directors such as Michel Saint- Denis, Tyrone Guthrie and Gielgud. He continued to act on stage – embodying characters created by William Shakespeare, Charles Dickens, Fyodor Dostoyevsky, TS Elliot, Arthur Miller and Evelyn Waugh, among others – but by the mid- 1950s, film roles started to take up more of his time. He won an Oscar in 1957 and an Academy Honorary Award in 1979. Guinness was made a CBE in 1955, knighted in 1959 and made a Companion of Honour in 1994.

Noorunissa Inayat Khan 1914–1944, Special Operations Executive (SOE) agent in occupied France:
Noorunissa Inayat Khan became one of the silent heroes of the Second World War. With the code name 'Madeleine', she worked as a wireless officer for the British Special Operations Executive (SOE) in Paris during 1943, when the city was occupied by Nazi forces. She evaded capture far longer than expected in her role and continued to send important messages to London to aid the French Resistance. She was betrayed, arrested and interrogated, but she refused to give up her secrets. She was executed at Dachau by the Gestapo in September 1944. Born in Moscow to a Sufi teacher and an American mother, and descended from the 18th-century Tipu Sultan of Mysore, Noorunissa Inayat Khan was educated in Paris. Escaping to England after the fall of France, she joined the Women's Auxiliary Air Force, then took one of the most dangerous postings in occupied territory. She maintained her views on non-violence by not carrying a weapon. She was posthumously awarded the French Croix de Guerre and the British George Cross, one of only three women to receive the latter award for service during the Second World War. A memorial to her in Gordon Square Gardens, London was unveiled by the Princess Royal in 2012.

Max Perutz 1914–2002, Molecular biologist and Nobel laureate:
Max Perutz devoted most of his working life to the study of haemoglobin – more precisely, to finding the position of the 10,000 atoms that make up its structure and to explaining how it acquires an appetite for oxygen and is induced to release it. For demonstrating how X-ray crystallography can be used to determine the structure of a protein, he shared the Nobel Prize with John Kendrew in 1962. Born in Vienna, Max Perutz studied chemistry and moved to Cambridge in 1936 to pursue his research. Interned as an enemy alien at the outbreak of the Second World War, he was sent to Canada but released in 1941 to continue his work. He was the chairman of the Medical Research Council's Unit (later its Laboratory) for Molecular Biology, which now boasts eight Nobel Prizes, including that for the discovery of the structure of DNA in 1953. Later in life, Perutz turned to the study of Huntington's disease. He was made a Companion of Honour and received the Order of Merit; he also won the Lewis Thomas Prize for his writings on science.

Joan Littlewood 1914–2002, Theatre director and writer:
Joan Littlewood revolutionised British theatre after the Second World War by making the classics immediate and by turning raw material relevant to its time into productions of international acclaim. Chief among them was the eye-opening First World War entertainment Oh What a Lovely War, which (together with A Taste of Honey and Fings Ain't Wot They Used T'Be) was created in close collaboration with her actors. Littlewood was born in a working-class district of south London. She left the Royal Academy of Dramatic Art early, and with Jimmie Miller (later known as Ewan MacColl) she founded the agit-prop-inspired Theatre Union in Manchester. After the Second World War, aiming to bring a fresh kind of theatre to a new audience, the company toured the UK and Europe as Theatre Workshop before settling in 1953 at the run-down Theatre Royal in London's East End. With the guidance of Littlewood's partner, Gerry Raffles, came hard-won recognition. Littlewood, wanting to release everyone's innate potential, also dreamed of a place for learning and entertainment: The Fun Palace. Her ideas for this project governed the rest of her life. After the death of Raffles in 1975, Littlewood left theatre and wrote books, dividing her time between France and England.

Abram Games 1914–1996, Graphic designer:
Abram Games designed almost 300 posters, which became artworks for all. His work helped to inform the nation about the importance of supporting the war effort by growing food and avoiding careless talk, and he designed posters for travel and new products. He created the symbol for the 1951 Festival of Britain, thus giving the nation a witty and patriotic design for use on every possible object, from buildings to stamps. Games may be best known for his visual inventiveness, which drew on the influence of European modernism. He had a passion for product innovation: he designed a coffee maker, a circular vacuum cleaner and a portable duplicator. Born in Whitechapel, London, to an émigré Latvian-born photographer and a seamstress, Games trained as a commercial artist and in the mid- 1930s started work as a freelance designer. He was the only official War Office Poster Artist and attained the rank of Captain. Games was awarded an OBE in 1957 and appointed Royal Designer for Industry in 1959. His works, familiar and intriguing, have become part of Britain's visual history.


---
Virtual Stamp Club Home Page