Classic Children's Television
(Click Pictures for a Larger View)

From Royal Mail:

Reason and Inspiration:
This is a subject we have found to have huge appeal across generations. Classic Children's TV will feature 12 much-loved characters from over 60 years of television.

2014 marks the 40th anniversary of Bagpuss appearing on TV, and the saggy cloth cat is continually cited as the most favourite British children's TV character of all time. The year will also mark the 50th anniversary of The Magic Roundabout. The prolific British animator Ivor Wood created the character of Dougal, one of the show's memorable characters, who is close behind Bagpuss in people's affections. Wood also went on to animate Paddington Bear and Postman Pat for TV.

Some of these programmes are more than 60 years old, and even the oldest ones have been frequently repeated and new series created of them. These stamps will evoke nostalgia among grandparents, parents and will be recognised by young children and teenagers alike. Each decade since the 1950s is represented in this issue.

Many of these shows have acquired cult status, and while intended for a young audience, they also attract devoted adult fans. Such was the attraction of The Magic Roundabout that it had an impact on the nation's economy in the 1960s, when adults left work early to catch the latest episode before the early evening news.

We believe this will be an immensely popular stamp issue for all ages for 2014.

Technical details:
Issue date: 7 January 2014
Number of stamps: 12 x 1st
Design: Interabang
Products: First Day Cover, Presentation Pack, Stamp Cards, Medal Cover, Frames, Pins
Stamp size: 25mm x 25mm
Printer: International Security Printers
Print process: Gravure
Number per sheet: 60
Andy Pandy
"Andy Pandy's coming to play, la-la-la-la-la-la!" Devised by Freda Lingstrom and Maria Bird, Andy Pandy was first screened live in summer 1950 during the BBC's For the Very Young slot. Subsequent episodes were filmed to enable repeat broadcasts and became central to the Watch with Mother segment from 1953.

Narrator Vera McKechnie addressed string puppets Andy Pandy, Teddy and Looby Loo directly, and encouraged young viewers to sing and dance along with the music and songs.

After the original, filmed episodes had become too damaged to be broadcast, and in 1970, 13 brand-new colour programmes were recorded.

Ivor the Engine
Developed for ITV by Oliver Postgate and Peter Firmin, Ivor the Engine told the story of small steam train working on a remote line in the "top left-hand corner of Wales". Narrated by Postgate, in his best Under Milk Wood voice, the show used charmingly rudimentary techniques to animate illustrations of Ivor and driver Jones the Steam.

While Ivor would perambulate along the rails making a pleasing "pssh-te-cuff" sound, Vernon Elliott, a classical bassoonist, provided the accompanying music.

A total of 32 episodes were made between 1959 and 1964, and a further 40 were commissioned by the BBC in 1975.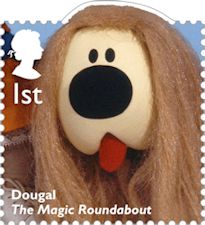 The Magic Roundabout
In the early 1960s, French animator Serge Danot created an innovative stop-motion series, Le Manège Enchanté. Ivor Wood joined Danot to work on the original episodes. Set in a magical park, it featured a dog named Pollux and his friends. First broadcast in 1964, the unique programme soon caught the attention of TV executives in the UK.

BBC Head of Children's Programming Doreen Stephens was charmed by the feel of the series, but felt the script needed changes. Eric Thompson, who was brought in to redub it, wrote and narrated new stories around the visual elements. Retitled The Magic Roundabout, and featuring Dougal the dog, it was a hit upon its UK debut in 1965.

Camberwick Green
Created by Gordon Murray, Camberwick Green featured stories about the folk of a picturesque rural village in the county of Trumptonshire. Thirteen 15-minute episodes were filmed in colour and narrated by the Play School presenter Brian Cant.

First broadcast in 1966, each episode began with a rhyme: "Here is a box, a musical box, wound up and ready to play. But this box can hide a secret inside. Can you guess what is in it today?" The featured character – perhaps Windy Miller, Dr Mopp or Mrs Honeyman – would then be revealed. Accompanying songs were composed by classical guitarist Freddie Phillips.

Mr Benn
It all began in Festing Road, Putney, where author and illustrator David McKee lived. He used the street as the inspiration for Festive Road, the home of Mr Benn. First published in book form in the late 1960s, Mr Benn the TV series followed in 1971.

Each episode saw our hero visit a fancy-dress shop where, "as if by magic", the shopkeeper would appear. Dressed in his chosen costume, Mr Benn would leave the changing room and end up in an unusual location – a knight's armour, for example, led to an encounter with a dragon, while a caveman outfit took him to the Stone Age and a spaceman costume took him to outer space.

The Wombles
Created by Elisabeth Beresford for a series of novels in 1968, the Wombles are conical-faced creatures that live in a burrow under Wimbledon Common and spend their days collecting and recycling rubbish. They arrived on our screens in a series of 60 short instalments first airing in 1973. Using stop-motion models directed by Ivor Wood and the perky narration of Bernard Cribbins, the show introduced us to, among others, the exotic Madame Cholet and wise old Great Uncle Bulgaria.

'The Wombling Song', the show's catchy theme tune, gave rise to The Wombles pop group, which, with a little vocal help from songwriter Mike Batt, had many hits.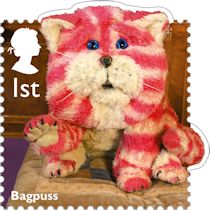 Bagpuss
Another unique creation from Oliver Postgate and Peter Firmin, Bagpuss was a pink, striped, "saggy old cloth cat" who first appeared in 1974.

The series was set in a lost-and-found shop where Bagpuss would come to life on delivery of a discarded, broken item from young girl Emily. He and his friends – including six mice, banjo-playing toad Gabriel, rag doll Madeleine and woodpecker bookend Professor Yaffle – would then weave songs and stories around the object while it was repaired. With the restored item placed in the shop window for its owner to collect, Bagpuss would give a contented yawn and settle back down to sleep.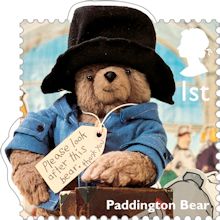 Paddington Bear
A Bear Called Paddington, written by Michael Bond, was first published in 1958. In 1975, the TV series directed by Ivor Wood and narrated by Michael Hordern was a mix of Paddington as stop-motion puppet animation and 2D illustration for all the other characters and backgrounds.

In the first episode, Mr and Mrs Brown meet the marmalade-loving bear from Darkest Peru and take him home, naming him after the London railway station where he was found. Paddington is the classic innocent abroad, a kind bear, well-meaning and polite, who is unaware of the obstacles and imminent catastrophes so evident to everyone else – but things always turn out fine for Paddington in the end.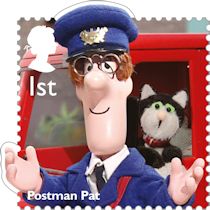 Postman Pat
Ivor Wood collaborated with writer John Cunliffe to bring Postman Pat to our screens in 1981. As he worked his route in bucolic Greendale, each stop- motion episode would see the Postman become distracted by the plight of one of the locals, who included farmer Alf Thompson, handyman Ted Glen and postmistress Mrs Goggins. Originally narrated by Ken Barrie, Lewis MacLeod more recently took over as the voice of Pat, whose route now includes the bustling town of Pencaster.

Bob the builder
Can he fix it? Yes, he can! Making his debut in 1998, Bob the Builder was the brainchild of former Muppets designer Keith Chapman. As the world's favourite builder, Bob's ability to take on any project promotes a can-do attitude of positivity and the benefits of working together, as sung in his chart-topping theme tune. Voiced by Neil Morrissey, Bob is ably assisted by his 'Can-Do Crew' of Scoop, Muck, Dizzy, Roley and Lofty, as well as his business partner Wendy.

Peppa Pig
Peppa is a lovable, cheeky little piggy who lives with her little brother George, Mummy Pig and Daddy Pig. Peppa's favourite things include playing games, dressing up, days out and, most of all, jumping in muddy puddles. After Lily Snowden-Fine and Cecily Bloom, Harley Bird was the third person to provide Peppa's vocals, and in 2011 she won Best Performer at the BAFTA Children's Awards. The show sees its 10-year anniversary in 2014 and Peppa will be wearing her golden boots to celebrate.

Shaun the Sheep
First appearing in the Oscar-winning 1995 Wallace and Gromit film A Close Shave, Shaun the Sheep graduated to his own TV series in 2007. Shaun is a sheep who doesn't follow the flock – in fact, he leads them into all sorts of scrapes and scraps, turning peace at Mossybottom Farm into mayhem in the meadow. Shaun and his pals run rings around their poor sheepdog Bitzer, as he does his best to stop the Farmer from finding out what's going on behind his back.


---
Virtual Stamp Club Home Page