The Six Million Dollar Stamp Trade
By Chris Kloetzel
This is a non-fiction documentary script written by Chris Kloetzel, a student at Ohio University. In the winter of 2005 Chris took a short-form scriptwriting class, and for the topic of his project he chose the recent 1¢ Z Grill and Inverted Jenny plate block swap. He interviewed Charles Shreve and Donald Sundman via e-mail and James Kloetzel, his father, over the phone. The interviews were assembled into a 'narrative' for the documentary. No actual visuals (news and interview footage, stamps, photographs, etc.) were gathered; he simply researched existing visuals and described them in the script. This project was only intended to be an exercise in the pre-production process of making a short documentary film.

It is reproduced here with the permission of Chris and Jim Kloetzel. All rights reserved. ©2006 Chris Kloetzel.
---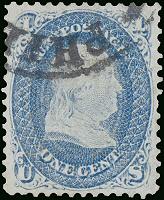 Z Grill - Click for a Larger View

Narrator: This is Britney Spears' Malibu home. It has eight bedrooms and bathrooms, a spa, a gym, and an outdoor kitchen. It is valued at six million dollars.

This is an 1868 stamp called the 1¢ Z Grill. In November of 2005 it was traded for this, the most famous stamp in the United States, appropriately named the Inverted Jenny. Together, the two items are worth six million dollars and are responsible for the most sensational story the stamp world has ever seen.

Narrator: The story starts, however, in 1998, when the historic Zoellner Collection of stamps was auctioned by Robert A. Siegel Auction Galleries, Inc. in New York City.

James Kloetzel: The entire collection was sold, and of course when the Z Grill was sold it was sold in a big ballroom of a fancy hotel on the upper east side of New York City. There was much interest in it. The Z Grill was purchased by Donald Sundman of Mystic Stamp Company for $935,000, which at that time and for a long time after was the highest price ever paid for a United States stamp.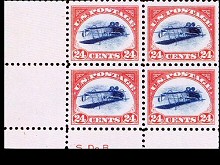 Inverted Jenny - Click for a Larger View


Donald Sundman: I've worked hard to make Mystic a success, but these are rarities I read and thought about over the years, but never expected to own them. I could not believe my luck in buying the Z grill in 1998 because other people had far more money than I did, but were not willing to pay it for the stamp. I'm so lucky. At the time, I used the analogy that the Z Grill to Mystic was what Michael Jordan was to Nike. The Z grill could be our celebrity.

Narrator: Like so many figures in the world of philately, Sundman became involved with stamps at an early age.

Donald Sundman: My father showed me how to collect around 1960, when I was 5 or 6. He took me on the porch, gave me a small paperbound album, stamps, hinges, and showed me how to sort the stamps by country, figure where they belonged in the stamp album, and hinge the stamps in the album. It was fun.

Narrator: Sundman turned his early interest into a flourishing career as he began managing Mystic Stamp Company at the age of 19. Now the company's President, he oversees the operations of one of the largest direct retailers of postage stamps for collectors.

Narrator: In 1918, the Inverted Jenny was issued. Very quickly, it would become an error stamp like no other.

James Kloetzel: Well, on the date that it was issued, William Robey went down to the Washington, D.C. post office. He was a stamp collector, and he knew that this was going to be a two- color stamp, and I think he even supposedly said to his wife, "Wouldn't it be great if they printed some upside down." And low and behold he went up to the counter and he wanted to buy a sheet of a hundred of these new airmail stamps. The clerk got out a sheet and put it on the counter and right away Robey noticed that the plane was upside down but the clerk did not, and Robey gave his $24 and then told the clerk to look closely at the stamps he had just sold him. The post office stopped selling the stamp completely until they checked all the stock and they found some additional sheets that had been printed upside down. All those were destroyed so that this one pane of 100 stamps became the only examples anywhere of the inverted airplane. He offered them to various dealers and finally settled upon a price which was something like $15,000, which was a huge sum of money at that time. The purchase was made by a dealer who was acting as agent for Colonel Green of New York who was a great collector of stamps. He broke up the sheet into various parts and kept various parts for himself and the dealer offered and sold the remainder to collectors.

Stamp Dealer (From Movie "Brewster's Millions"): As you can see the airplane was accidentally printed upside down.

Narrator: In 1985, the Inverted Jenny made it to Hollywood. Richard Pryor purchased the stamp for 1.25 million dollars in Brewster's Millions. Twenty years later, a plate block of four Inverted Jennies was purchased at auction for the staggering price of 2.97 million dollars. The high bidder was Bill Gross, chief executive of the bond-trading firm PIMCO. Gross was in fact the under-bidder on the Z Grill seven years earlier. That particular stamp was the only one he still needed to complete his comprehensive collection of 19th century U.S. stamps. So in reality, his obtaining the Inverted Jenny plate block was just a step in his plan to acquire his sought-after Z Grill.

Charles Shreve and his wife Tracy of Shreves Philatelic Galleries, Inc. have helped and advised Bill Gross for the past 13 years.

Charles Shreve: Tracy and I first met Bill Gross as a client in 1993. We immediately had an excellent working relationship helping him build a truly great collection, advising him, looking out for items at auction. Over the years our relationship has evolved from a purely business relationship to a mutual friendship. One of the cool things about working with Bill on his collection is that he allows me to share in his excitement and collecting accomplishment. Whenever I mention to him that I cannot believe what he has assembled he always says to me, "Why not, you helped build it?"

Narrator: The amazing collection could not be completed though until Gross somehow obtained the Z Grill. And on November 2, 2005, he did just that.

Narrator: Charles Shreve, acting on behalf of Bill Gross, traded the Inverted Jenny plate block to Donald Sundman for the Z Grill. Because of the plate block's prior auction price and because this was an even trade, the Z Grill's value jumped instantly from 935,000 dollars to 2.97 million dollars. And overnight, the stamp world became mainstream news.

Charles Shreve: Perhaps the thing I am most pleased about that came out of the big swap was the amount of worldwide publicity the swap generated in the non-philatelic world. The swap was covered in over 100 different media outlets throughout the world, the New York Times, the London Times, CNN, National Public Radio. The story was treated not in the typical way so often seen in the lay press - joke making, nerdy collectors. It was taken seriously and brought to the forefront of the real world that stamp collecting is a serious hobby enjoyed by serious collectors.

I think this one story alone helped the image of stamp collecting more than any other in the last decade.
James Kloetzel: It certainly boosted stamps in the eyes of the public, and it probably enthused a great many collectors to have this story out there in the public about their hobby. So it was definitely a good thing for the hobby, a lot of good publicity, and the new owner of the Z Grill will get publicity for himself for having the complete 19th century U.S. collection, and Donald Sundman of Mystic Stamp Company will have another stamp besides the Z Grill for which he's had publicity since 1998. He will now be able to do the same kind of treatment and get himself a lot of good publicity for the only, the unique Inverted Jenny plate block. So it really has worked out well for all parties concerned I would say.

Narrator: The decision to give up one treasure for another was not a simple one. Although happy with the ultimate outcome, Sundman did experience a slight case of seller's remorse.

Donald Sundman: I know it may sound silly, but it was a difficult decision to let go of the Z Grill. After I agreed to the trade, I hoped it would fall through and I would keep the stamp. It was an emotional feeling rather than rational thought. I agreed to the trade thinking the Jenny plate-number block was worth at least as much as the Z Grill and the publicity from the trade would be good for the hobby and for Mystic. And it gave me an easy way to own the two greatest rarities in stamps.

The feeling went away after about two weeks, although I still miss the Z Grill stamp.

Charles Shreve: I am proud of what was accomplished. But I am most pleased that I was able to put together two fine parties in a transaction that gave each one what they wanted and helped to accomplish their individual goals.

Donald Sundman: I feel privileged, lucky, and excited. I wish I could bottle the feeling and uncork it when I need a thrill.


---
Virtual Stamp Club Home Page