Thurgood Marshall First Day Ceremony
January 7, 2003 at 10:30am
By Jay Bigalke
The Thurgood Marshall ceremony was well attended by numerous dignitaries as well as the public. The event was held at the Thurgood Marshall Federal Judiciary Building in Washington, which is located right next to Union Station. Presiding over the event was attorney Karen Hastie Williams of the firm of Crowell & Morgan, who introduced some of the approximately fifty honored guests. They included six from the USPS Board of Governors, three Citizens Stamp Advisory Committee members, Rep. Jim Sensenbrenner (R-Wis.), who is also a stamp collector, and Thurgood Marshall's family.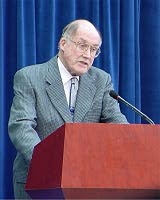 The Armed Forces Color Guard presented the colors and the National Anthem was sung by the Howard University Choir. Chief Justice of the United States William H. Rehnquist (picture left - click for a larger view) spoke about the Supreme Court justices that have appeared on postage stamps. He said President William Howard Taft, who could be considered a "two-fer" as he was both a justice and president.
The group Youthful Spirit continued the ceremony by singing "The Battle Hymn of the Republic," which was Thurgood Marshall's favorite.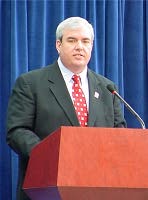 Postmaster General and CEO for the Postal Service John E. Potter (picture right - click for a larger view) was the USPS' dedicating official. His speech followed the press release, as he stated "through the issuance of the Thurgood Marshall stamp we have created a lasting tribute to one of the pioneers of civil rights and social equality in our country." Following his speech the stamp was unveiled.
Afterwards, U.S. Circuit Judge, 2nd Circuit, Ralph K. Winter, Marshall's first law clerk, commented on many aspects of Marshall's life, calling him a hero. He told what he thought Marshall would have said about the stamp saying "What's all this hero stuff? It's just a pretty face."
The ceremony then concluded with the Howard University Choir and the audience singing "Lift Every Voice and Sing," which has been called the black national anthem.
---
Virtual Stamp Club Home Page