Star Wars Stamps Make Their Debut
Star Wars Invades Chicago - and VSC Special Correspondent Randall Sherman has a photo essay.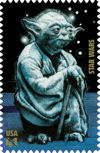 Get details and discussion about the stamps in our message board.

Star Wars Fans: Learn the stamp collecting jargon about these stamps, and discover there's more to collect than just a sheet of stamps, in the on-going discussion in our message board.

Which character is getting his own stamp in late summer? It's Yoda! Check this discussion for more information.

What does Boba Fett think of the stamps? Check our audio feature.
---
Virtual Stamp Club Home Page