Designing Kids
Out Of This World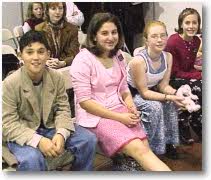 Four U.S. postage stamps designed by children go on sale Thursday, July 13th.

The four kids were all ages 9 and 11 when they entered the contest in 1998, along with 120,000 other children between the ages of 8 and 12.


"I love entering art contests; it's a good opportunity," Ashley Young of Sandy, Utah, near Salt Lake City, told the Virtual Stamp Club. "I didn't think I'd win. My mom just picked it up for me at the post office. It looked like fun."



Now 13, Ashley's stamp, "Dog," (left) shows a golden retriever named Fetch on the moon wearing a helmet.


Zachary Canter of Kailua, Hawaii, 10, whose grandfather designed the 1996 Love stamp, depicted his vision of the future in "Astronauts." (right)
"There's a lot of fun in it," he said. "There's a bunch of kids, they're on rocket ships, they're on space skateboards."

Morgan Hill's stamp, "Rocket," (left) shows a family rocketship approaching the planet Jupiter.
"It just pretty much means that nobody knows much about Jupiter and hopefully that children can go into space and maybe even help find out some stuff about Jupiter," the 11-year-old from Montclair, New Jersey told VSC.

Sarah Lipsey's stamp, "Children," (right) also has a message.
"In the background it has a world shaped like a heart and it's got five children from all over the world holding hands," the 13-year-old Memphis artist said. "It has stars and some of them have five points and some have six points and they represent the different religions all over the world."
For winning the stamp design contest, the kids won trips to New York City and the April Mega-Event Postage Stamp Show and Anaheim, California, for World Stamp Expo 2000, where the first day ceremony is. They all also got new desktop computers.
Zachary was the only one of the four to have tried stamp collecting. Now all four say they're likely to collect stamps - not only their own, but others as well.
When The Virtual Stamp Club talked to the young stamp designers at the Mega-Event, they said the four had become fast friends during their long weekend together; even their parents commented on how well these four children - three girls and a boy - from different parts of the country had bonded.
Morgan, a veteran of many trips to New York City from nearby Montclair, told us the best part was the chance to stay in a hotel in the Big Apple.
But the best prize, said Sarah, was just winning.
"It's really fun to be in the limelight," she admitted.
(Hear the kids talk about their stamps on this CBS News Stamp Report MP3)
Photos and text © 2000 de Vries Philatelic Media
---
Virtual Stamp Club Home Page