Wade Saadi Elected APS President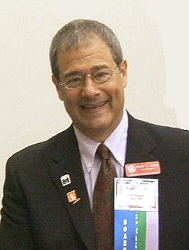 Wade E. Saadi of Brooklyn, New York, was selected as President of the American Philatelic Society during a teleconference Board of Directors meeting September 22 at the American Philatelic Center in Bellefonte, Pa. He succeeds Nicholas G. Carter, who passed away Sept. 11, 2008.

In accordance with Section 4.8 of the APS Bylaws, the Board of Vice Presidents called the board meeting to fill the vacancy. (The Virtual Stamp Club's coverage of the meeting and subsequent discussion can be found in our message board.)

Only another member of the Board of Directors could be chosen to fill the presidential vacancy.

Because Saadi was elected president, there is now a vacancy on the Board of Vice Presidents. He will appoint a new vice president, with the consent of the Board of Directors. A teleconference meeting for that purpose is scheduled for Monday, Sept. 29 at 3 p.m. Eastern. Any APS member is eligible to fill the BVP vacancy.

A Life Member of the APS, Saadi previously served on the APS Board as a Director-at-Large, and more recently as Chairman of the Board of Vice Presidents, as well as chairing the APS Membership Recruiting Committee. Saadi brings extensive financial, managerial, and real estate experience to the position, having been successful both as founder, president and CEO of an award-winning computer services/software/executive search company, and then as head of a full-service real estate office in the highly competitive New York City marketplace.

Saadi has collected the full range of United States stamps, from early U.S. issues through modern plate number coils. Recipient of the U.S. Philatelic Classics Society's Chase Cup in 1997 for a three-part article in The American Philatelist, Saadi also is president of the USPCS, immediate past president of the Collectors Club (New York), and president of NY-2016, the organization staging the next international philatelic exhibition to be held in the United States. Saadi was actively involved in the incubation of the "Shaping the Future of Philately" Council to promote youth philately, and has been a member since 2003 of the Smithsonian National Postal Museum's Council of Philatelists, where he chairs the New Initiatives committee. Previously, he chaired the committee overseeing the Arago project, an online research resource on stamps and the history of postal operations as seen through the NPM's collection.

"Thank you for the vote of confidence," Saadi said in accepting the position. "I look forward to working with all of you together as a strong and united board." Saadi asked the board to join him in pledging to carry out Carter's vision, spreading the fun of philately, establishing financial soundness for the Society, focusing APS services to serve its geographically diverse membership, putting the stamp hobby on the cutting edge of 21st-century technology to make philatelic information readily accessible, and completing the American Philatelic Center in Bellefonte in as economical a fashion as possible.


---
Virtual Stamp Club Home Page