Stamp Collector Reveals
Rare Stamp May Have Duplicate
A second copy of what is arguably the most famous stamp in history, a one-cent magenta British Guiana which sold for $935,000 in 1980, is now in collector hands and is not being ruled out as a fake according to a report in STAMP COLLECTOR magazine.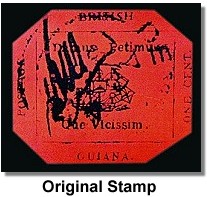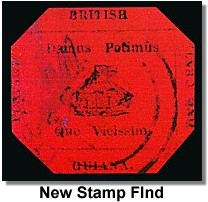 The 1856 stamp has been thought to be unique for more than a century but now evidence is emerging that a sister stamp has been found. According to the January 18 STAMP COLLECTOR article, if the second stamp is authentic, its discovery will be the major stamp story of the decade.
Preliminary research by a Munich, Switzerland, firm indicates the paper and ink of the newly discovered stamp are old enough to be genuine. It is currently being examined by the Royal Philatelic Society and will likely be sold by Zurich auctioneer David Feldman if proven genuine. As of yet there is no speculation as to the potential value of the rarity, according to Wayne L. Youngblood, editor and publisher of STAMP COLLECTOR.
The article, citing a "sketchy" report in a German post office publication, states the stamp came into the hands of a Bremen stamp dealer during the mid 1980s from a Romanian dancer who inherited it from her grandfather, a servant to an unnamed Russian nobleman. Though just as badly damaged as the original British Guiana, the copy does have better color which Feldman attributes to less exposure to light.
Regardless of the outcome of the investigation, the new find adds yet another chapter in the fascinating saga of the one-cent British Guiana which was first sold in 1872 for less than $1 and drew a price of $935,000 from John du Pont in 1980.
STAMP COLLECTOR, a bi-weekly publication for the serious collector/investor that has served the stamp hobby for over 65 years, covers a wide variety of U.S. and foreign stamp news from all over the world. The magazine is published by Krause Publications, 700 E. State St., Iola, WI 54945.
---
Virtual Stamp Club Home Page