Postal Bonuses?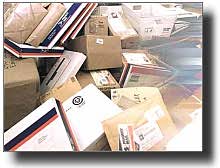 Forget the projected $2 billion deficit, the second rate hike this year, the threat to cut Saturday mail delivery, the stoppage of construction projects nationwide.
Top U.S. Postal Service managers have been told they could find a little something extra in their paychecks this year, reports The Washington Post: Performance bonuses of as much as 25% of their salaries.
"This year our productivity is up," Postmaster General Jack Potter told 900 senior executives in a July 3rd letter.
"It would be the biggest mistake the Postal Service could ever make," said Gene Del Polito, president of the Association for Postal Commerce, to The Post. The 350 members of his group represent, through their direct-marketing flyers and catalogues, 70% of all business mail sent in the U.S.
"After two successive postal rate increases, and the promise of yet another round of increases, to tell them that bonuses of that magnitude could possibly be paid out is obviously something the customers find totally unacceptable," he told CBS Radio News.
"They need to transform the Postal Service into a true competitive enterprise, putting it on same footing as other business enterprises, to achieve the reforms that (Potter) seeks."
Del Polito says the major problem is that postal executive do not suffer when their business shows poor profits or bad management, or even because of tough times.
"Companies nationwide are laying off people and downsizing their business because of the downturn in the economy," he said. "The Postal Service as it now functions has never and will never do that."
Rep. Walter Jones, R-NC, has submitted a non-binding resolution to the House that would do just that: It urges that bonuses not be given to postal executives when the USPS is in the red or has boosted rates.
"Here's a business that's not going to show a profit and yet it wants to give bonuses," Jones told The Post. "To the man or woman that's got to pay the rates, that's unacceptable."
Discuss the raises, and USPS business practices, in our Message Board.
---
Virtual Stamp Club Home Page