Stamps As Political Art
Catch Secret Service's Eye
By Randall Sherman
[Adapted by permission from the VSC message board.]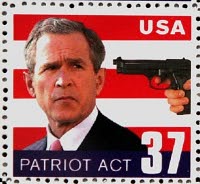 It seems a designer of fake stamps here in Chicago has once again caught the attention of federal officials... but this time the officials are from the Secret Service, in response to a fake stamp depicting President Bush with a gun to his head.

The display in question, called "Patriot Act," is part of the 47-artist exhibition titled "Axis of Evil, the Secret History of Sin," which is on display at the Glass Curtain Gallery of Columbia College here in Chicago (located at 1104 S. Wabash Ave., just south of the Loop). The Secret Service stopped by to check out the exhibit (I must assume that someone told them about some of the displays in advance) on Thursday, the night before the exhibit opened. (The exhibit runs through May 11.)

The exhibit's curator is Michael Hernandez deLuna. If the name seems familiar, that is because he used to design fake stamps and send them thru the mail, until postal officials laid down the law to him and his partner. They then displayed much of their work at the COMPEX Show here in the Chicago area several years ago (including the famous stamp they created of former U.S. House Ways & Means Committee Chairman Dan Rostenkowski, which featured the words "Buy, Sell, Trade" by Rostenkowski's face).

[Later, Randall called the gallery for more information.]

There are a total of 127 displays in the exhibition, created by 47 artists from 11 nations (the United States, Russia, Mexico, England, Japan, Italy, Switzerland, France, Canada, Uruguay and the former Yugoslavia). The stated purpose of the exhibition, according to the organizers, is "to define evil through the print making form of the postage stamp sheet."

Admission to the exhibition is free. Currently the exhibition will be open Monday thru Friday until May 11 (although I was told the organizers are looking at the possibility of adding Saturday hours). Presently the exhibition is open from 10 am until 7 pm on Monday and Thursday, and from 10 am until 5 pm on Tuesday, Wednesday and Friday.

For additional or updated information, you can call the Glass Curtain Gallery at 312/344-6650.

It appears that in this case those who came up with the idea for this show are not going to complain too loudly, since the resulting publicity has shot interest in the exhibition way up.

VSC member Andrew Oleksiuk took exception to a college newspaper editorial castigating the exhibition. "Columbia Chronicle editors got it wrong in their editorial of April 18th,'The Real Crime is Fraud, not Free Speech.'" Read his letter to the editor here.

There's more discussion on the exhibition, starting here.


---
Virtual Stamp Club Home Page