Arrests In Major Stamp Theft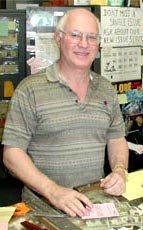 Stanley Piller
---
Two men were arrested in New York City in early February in connection with the theft four years ago of dealer Stanley Piller's $2 million stock four years ago.

Ulysses Cheda and Jose Palmer were arrested after selling some of the stamps to a gallery owner, according to prosecutors. The name of the gallery was not released, but Cheda and Palmer allegedly tried to sell $100,000 of the stamps last month. The gallery owner recognized the stock as Piller's and called authorities.

The stamps were stolen after a show in February 1999 in Sarasota, Florida, when Piller left his rented car to get directions. He returned a few minutes later to find the trunk open and the stamps gone.

Among the missing material were extremely rare stamps such as New York State five-cent stamps issued in 1845 as well as Confederate stamps worth $400,000.

"I was surprised. I was overjoyed," Stanley Piller said. "What more can I say?"

Piller said he always suspected his stock would turn up when the thief tried to cash in.

"These stamps are like fingerprints. No two were alike," Piller told The San Francisco Chronicle. "This type of material is almost impossible to sell.

"They were rare. They were in demand. I hate to use the word unique, but some of them, that's what they are," Piller said. "Most items were from $600 on up. Some were in the tens of thousands."

Cheda and Palmer were arrested after the gallery owner paid them $50,000 for a box of stamps, federal agents said. They also recovered a 50-pound box that appeared to contain thousands more stamps.

Part of the Piller stock was offered for sale in a Cherrystone Auction in 2000, but the crooks and the rest of the loot disappeared before authorities could close in.

This time, "a good portion of the stolen stamps were recovered," said a spokesman for the FBI's New York field office.

"Someone has been exceedingly helpful, both to us and to the world of philately," Simon Codrington of Hugh Wood, Inc., told The Virtual Stamp Club. He declined to identify that individual. "I am very refreshed that people are that honest."

The insurance settlement with Stanley Piller was made several years ago, but Hugh Wood used its regular investigation services to keep the recovery effort active.

"We have maintained an active investigation on this since the day of the loss, and we were convinced that one day it would surface," said Codrington. "We've invested time and money on improving our ability to recover stolen property."

And the resolution of the case makes Codrington very happy.

"Forget about the money. Some of that material was really unique Confederate material," he told VSC. "It would be a shame if some of that material were lost forever from American philately, because it's a really important."
---
Virtual Stamp Club Home Page