A Day At The Opera
The Metropolitan Opera rolled out the red carpet when the US Postal Service issued four stamps honoring opera singers who starred at the Met in the first part of this century.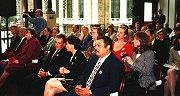 Members of the Tibbett and Tucker families, invited guests and the general public sat near large windows overlooking the Lincoln Center terrace. In the center of this photograph is Sylvester Black, District Manager/Postmaster of New York City. To the left in the front row, wearing sunglasses, is Mary Ann Owens of the Citizen Stamp Advisory Committee.
(Click any picture for a high-resolution view)

"They were so very special," said the Metropolitan Opera Association's Managing Director, Mezzo Soprano Rise Stevens. "Lily was the epitome of what a star was about," she said, and she had a crush on Lawrence Tibbett, whom she described as tall, slim and "a great actor on the stage with this incredible voice...everything a singer wanted to have, Larry had."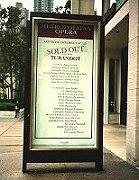 Luciano Pavarotti is starring in the Met's sold-out production of "Turandot." At the first day ceremony for the opera singers stamps, he told of stopping on his way from New York to Washington to visit Rosa Ponselle in Baltimore, and sang with her in her home. He visited her several times after that. Of Richard Tucker, he said, "When I came here the first time, he was the king of this theater....a great tenor, a great American and he is going to stay in our minds forever and the minds of everyone who is going to follow us."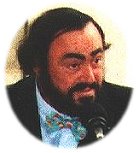 Pavarotti also said when he was a young man, Tucker sang at La Scala in Milan, and Pavarotti and his friends scoffed at the idea of an older American tenor, but when he heard the performance, "I cried."
"The honor today, they super deserve."
Photos © 1997 Lloyd A. de Vries; Scans by Sarah Collier.

---
Virtual Stamp Club Home Page