Stamp Collecting Courses Online
The American Philatelic Society begins offering its first online course May 6th.

"Basic Stamp Collecting" will help you learn the basics of the hobby in a small, personalized class setting with lessons that aren't buried in hobby jargon. And the APS course doesn't demand expensive equipment, software, or materials.

The four-week course starts May 6th, and is the first of several courses planned for the APS Online University. The cost for "Basic Stamp Collecting" is $35 for APS members and $45 for non-members. (APS membership is $25 a year, and anyone interested enough in stamp collecting may want to save the $10 and join.)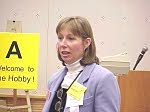 "We'll teach you where to get stamps, how to store them, and how to figure out what they're worth," said APS Education Director Kim Kowalczyk (right). Students receive an introductory kit that contains a magnifier, tongs, perf gauge, sample pack of hinges, and a pack of worldwide stamps and covers valued at $25 catalogue, plus Charles Adams' Stamp Collecting: The Complete, Easy Guide to the World's Most Popular Hobby, which retails for $5.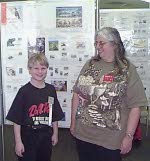 The instructor is Virtual Stamp Club member Ada Prill (left). And there will be opportunities for interactive discussions in the online chat classroom.
"I think we've put together some good course materials, and our students should find the experience both interesting and fun," said Ada.
Get more information at www.stampcampus.org.
Ask questions about the program in the VSC's Message Board.
---
Virtual Stamp Club Home Page