NTSS Brings 'Crafty' Style to Milwaukee Show
Mather Makes Milwaukee Show Shine
by John Cropper, VSC Contributing Correspondent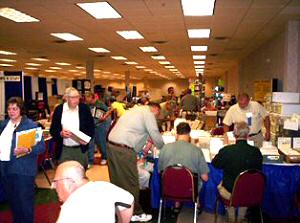 No Shortage of Shoppers: Friday and Saturday traffic was brisk, despite beautiful weather.


The National Topical Stamp Show, held this past weekend in Milwaukee, featured an unusual twist on the traditional 'PEX' shows of the past. This year's gathering offered a UN First Day ceremony, a lively US issue unveiling and even featured a 'philatelic craft day' on Friday.

Crafters vended their hand-made wares in the hallway outside the main entrance to the show floor, while some common techniques and tools were demonstrated in an hour-long seminar in a meeting room at the other end of the Four Points Sheraton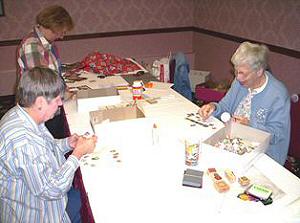 Getting Crafty: A seminar on how to use common or damaged philatelic material to make a neat gift was held on Friday afternoon.


Handbags, pencil holders, magnets and greeting cards were just a few of the items that were available and topics from lighthouses to covers to animals were featured on the crafters' offerings. Non-collectors also were treated to two separate seminars about hats and bookplates.

The bourse saw above-average traffic on its two busiest days (Friday and Saturday), with many tables bustling with activity. Nearly two dozen dealers, two postal administrations and dozens of frames of exhibits rounded out the main hall.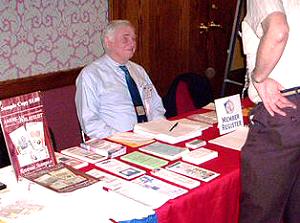 Ask Me About The APS: Bob Lamb greets members, guests and answers questions at NTSS.

The American Philatelic Society was in attendance, along with several other local clubs, who were all situated just outside the main hall entrance. Show covers, literature and philatelic apparel was available for purchase.

As the American Topical Association was unable to obtain a U.S. first day, they instead opted to participate in an unveiling of the "Let's Dance!" self-adhesive stamps, now tentatively scheduled for a September release in Miami.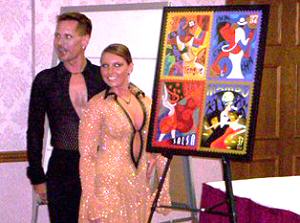 Let's Dance!: Marty Voight (l) and Melissa Wisher (r) demonstrated the steps involved in the dances depicted on the stamps unveiled at NTSS.


The unveiling also featured dancers from East Towne Ballrooms in Milwaukee, who skillfully described and demonstrated the Merengue, Cha-Cha-Cha, Salsa and Mambo (Apple Quicktime Player required to view 30-second movie links above.)

The show also featured a tour of Milwaukee on Thursday, as well a tour of Wisconsin's 'House on the Rock' on Monday. Even the non-collector was able to find something to do within a reasonable distance of the venue. The blended, 'hands-on' approach of philatelic and non-philatelic events made for a very appealing 'stamp show' that provided a little something for everyone.


Contacs:
American Topical Association
American Philatelic Society
United States Postal Service
East Towne Ballrooms (Milwaukee)


---
Virtual Stamp Club Home Page