June 1997 New Issues
---
June is bustin' out all over, and the philatelic world is no exception!


The United States starts the month with a pair of postal cards showing the Golden Gate bridge. The cards, with the domestic and overseas rates, are being issued at PACIFIC 97.

A few days later, the United States leads several countries in marking the 50th anniversary of The Marshall Plan, an economic aid program for Western Europe after World War II to help keep it from falling under Soviet influence. Other countries issuing Marshall Plan stamps are Germany and the Netherlands. Click the country to see a hi-res image of the stamp.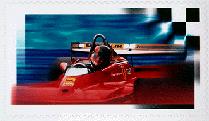 Canada releases a pair of stamps honoring racing car legend Gilles Villeneuve (the 12th), a joint issue with Italy for explorer John Cabot (24th), and a block of four for Canada Day (30th) featuring Scenic Highways. Usually, there are 12 stamps in Canada Day issues, one for each province and territory, so this is a departure from the past.
Four of each Villeneuve stamp (45c and 90c) will be included in an 8-stamp souvenir sheet.

Germany features horses on its 5 stamps benefiting the German Youth Stamp Foundation (horses), and remembers 19th Century medical researcher Sebastian Kneipp. Those stamps will be issued on the 9th, along with the Marshall Plan commemorative. Later in the month, there's a block of four stamps for an annual modern art exhibition. Click the stamp to view the other 4 Horse Stamps.
France issues four stamps on June 2nd for soccer's World Cup, and a single stamp on June 16th showing a fresco from the 12th Century. Click here to view the Soccer Stamps.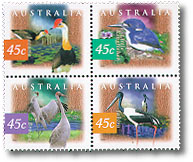 Australia is releasing a block of four Wetlands Birds stamps, from the Kakadu wetlands. Indonesia weighs in with stamps for the Environment and 50 Years of Cooperation. Late in the month (23rd), Finland marks the 60th birthday of its president as well as the country's own 80th anniversary.
Hong Kong finishes its tenure as a British colony with a definitive souvenir sheet that shows scenes from the Olympics. At the end of the month, the island reverts to Chinese rule.
Of course, these aren't all the stamps being issued this month. We'll hear of more as June busts out, and we'll have news of the stamps on this page and many of the ones that aren't in our Forum.

Lloyd A. de Vries, Forum Manager
LLOYDSTAMPS
---
Virtual Stamp Club Home Page