Match Factory Update
Click Pictures for a Larger View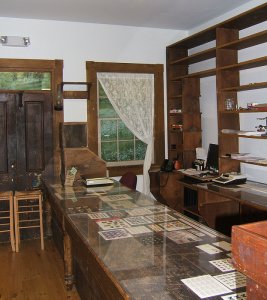 I hadn't visited the American Philatelic Center, the headquarters of the American Philatelic Society and American Philatelic Research Library in 6 or 7 years, until the local SCOPEX show in mid June 2013.

At my last visit, the space for a 19th century post office was prepared, but not yet occupied. The Headsville Post Office served a small West Virginia town for many years, and then was moved and displayed at the basement of the Smithsonian's Museum of American History for another 30. A renovation there sent the post office to storage, and the APS arranged to borrow it.

The Smithsonian keeps the APS on a tight leash regarding temperature and humidity - more than it enforces in its own buildings! And that counter? There's contact paper under the glass, because the Smithsonian won't allow stamps to make contact with the wooden counter. There's also a weight limit of two pounds on the counter.

Outside those windows you can see what a beautiful day it was outside — except those windows face into the interior of the APC, and that's a painted backdrop!


| | |
| --- | --- |
| Outside the Expertizing and Sales area, visitors are greeted by an old post office window.... | ...which goes through the wall, into the Expertizing area. |

This is some of the APS Reference Collection, one of the top stamp collections in the U.S. It is used to compare known real copies of stamps to those submitted for expertizing. But it also includes an excellent collection of Japanese forgeries. This entire area of the APC complex, but especially this room, are temperature- and humidity-controlled.

Rare books will ge a special secure and climate-controlled room of their own in the new American Philatelic Research Library area, but right now they're kept in Chief Librarian Tara Murray's office.
During a tour of the Pennsylvania state library in Harrisburg, Tara was told that the requirements for a rare book is a certain age and fewer than five copies known to still exist. Practically everything you see in this picture qualifies.

The APRL already has many "insider" documents about the development of U.S. stamps, but has recently received a large number of files from designer Richard Sheaff. They haven't been put away yet — no sense since the library holdings will be moved and rehoused soon — and here are some rejected designs for the 1996 Computer Technology stamp (Sc. 3106). The final design is here.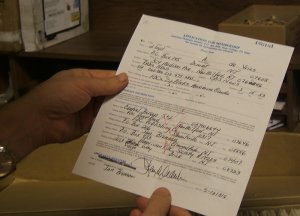 Back in the administrative section of the APC are file boxes containing every membership application from the late 1800s to.... the present day? This was mine, from 1982. That was the year my car was totaled (with me inside it), I bought a new car, got a job with CBS in New York, got married, had a 45-hour honeymoon, bought a house — and joined the APS!



And Now Click here for pictures of construction at the American Philatelic Center


---
Virtual Stamp Club Home Page