Got a Match?
Here are some photographs from my trip to Bellefonte, Pa. Click on the these pictures for larger versions: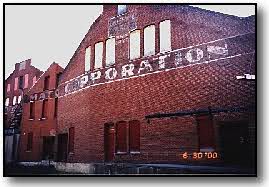 The main building of the "Match Factory." Although I wasn't able to go inside and the windows are boarded up, I'm told the main room of the main building (known as "Building #3," I think) is two stories high.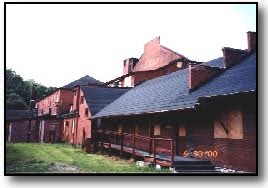 The Match Factory is actually a series of about 18 connected buildings, some dating back to 1899. This is a view of the other side. The buildings in the right foreground were the assembly line for making matches. In the background at the far left are several of the buildings that would be destroyed; they were added while the facility was being used by a home improvement/lumberyard company.

The courtyard in the right foreground includes a shallow spring-fed stream, most of which is presently inside a culvert, but which might be opened up as part of the landscaping. To the left, not shown in the picture, is the large cinderblock building that the U.S. Postal Service might lease.

At the top center in this picture is a belltower; the bell was used to tell employees to come to work or that lunch hour was over.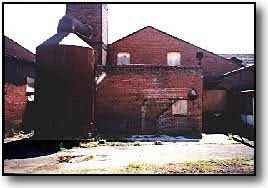 When I first saw this part of the building, I assumed that ugly, rusty boiler or whatever it is at the left in this picture would be destroyed, but I'm told the architect sees this as the main entrance to the APS headquarters, and that the boiler would be restored and become a centerpiece of the lobby.

Many of the Match Factory's ground-floor windows were bricked up by the home improvement company, which was worried about theft and burglary. Other windows were boarded up after that company went bankrupt several years ago, and after vandals got inside the building and vandalized the interior.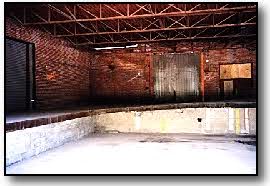 The complex is built on a "slab" of concrete, and has no basement. Shown here is the loading dock that would be used by both the USPS and the APS, and I'm told that at left is the lowest point of the slab. It's about 4 or 41/2 feet high, and is also on the side facing Spring Creek, which is a broad, slow-moving waterway. Logan's Branch, a fast-moving stream, is to the right of the loading dock as viewed here.

Click Here for More Pictures

©2000 de Vries Philatelic Media

---
Virtual Stamp Club Home Page