Magnolia Stamp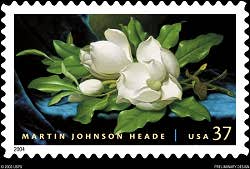 At the press briefing on the 2004 U.S. stamp program, Terry McCaffrey, manager of stamp development for the USPS, said the Postal Service keeps hearing that it should issue more "pretty stamps."

Thus, "Giant Magnolias on Blue Velvet Cloth" by Martin Johnson Heade (1819-1904), considered one of the most varied painters of the 19th Century in America. His works include landscapes, seascapes, still lifes, and botanicals.

"Heade was the only major American artist of the nineteenth century to make important contributions in landscape, marine, and still-life painting," says the National Gallery of Art.

This work, among his last, was painted between 1885-1895 while he was living in Florida, and acquired by the National Gallery of Art in Washington in 1996.

McCaffrey said that while the National Gallery offers prints and postcards of this work (Heade also painted "Magnolias on Gold Velvet Cloth"), all were sold out last time McCaffrey visited the gift shop there.

Heade was not considered an important artist during his life, and nearly forgotten afterwards, until his rediscovery in 1943.


Other "pretty stamps" in 2004 will include the single Candy Hearts Love stamp, the one- and two-ounce Wedding stamps, Art of the American Indian, Cloudscapes, and sculptor/designer Isama Noguchi's five stamps.


---