Stamp Out Humdrum Valentines
Love is in the mail — at least where Loveland, Colorado, about 50 miles due north of Denver, is concerned.

Starting Monday, Jan. 31, senior citizen volunteers will meet at the Loveland Chamber of Commerce to hand-apply a Cupid pictorial design and love verse on each card or envelope. The envelopes are then stamped with the world-famous "Loveland" postmark.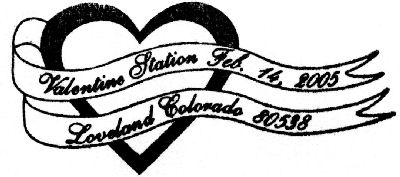 "These Valentines aren't just, you know, for Loveland. They're for the entire world," Miss Loveland, Tessa Berry, told KCNC television. "My brother will get one in Chile. Like he said, the soldiers in Iraq will get them. We're sharing our love with everybody."

It's the 59th year of the popular Loveland Valentine re-mailing program, sponsored by the Loveland Post Office and Chamber of Commerce. Loveland residents Ted and Mabel Thompson and former Loveland Postmaster Elmer Ivers started the program in 1947.

According to the Postal Service, Loveland has the biggest valentine postmark re-mailing program of any post office and community in the U.S. More than 221,000 valentine cards and letters were handled last year, from over 100 countries and all 50 states. It's estimated that over 10 million valentines have been re-mailed by Loveland since the program began 59 years ago.

"It really is a labor of love for everyone involved," says Loveland Postmaster Perry Buck. "It's busier for the Loveland Post Office than Christmas. It's a joy to be around these wonderful seniors - some of whom have been doing this for over 20 years."

Buck advises valentine mailers to get their love cards/envelopes to Loveland as soon as possible.

Mailing Instructions:
To have valentines re-mailed with Loveland postmark, enclose your pre-stamped, pre-addressed envelopes (envelopes should each have 37¢ postage; postcards should have 23 cents postage) and mail in a large stamped envelope to:
Postmaster
Valentine Re-mailing
Loveland, CO 80538
Deadlines for re-mailing/delivery by Valentine's Day, Feb. 14:
Valentine cards/envelopes destined for re-mailing outside of the U.S./internationally should be in Loveland by Tuesday, Feb. 1.


Valentine cards/envelopes destined for re-mailing within U.S. and outside of Colorado should be in Loveland by Monday, Feb. 8.


Valentine cards/envelopes destined for re-mailing within state of Colorado should be in Loveland by Thursday, Feb. 10.
Customers can use a larger envelope and mail your envelopes using Express Mail Service (1-2 day delivery); or Priority Mail Service (2-3 day delivery) to expedite delivery of their valentines to Loveland to meet the deadlines above.

Colorado residents can also drop off pre-stamped valentine envelopes at King Soopers and City Market stores which have Loveland Valentine re-mailing boxes, at locations in the Loveland area with valentine boxes, and at both Loveland post offices.

Discussion about Loveland's efforts is here


---
Virtual Stamp Club Home Page