"Lordly" Stamps From New Zealand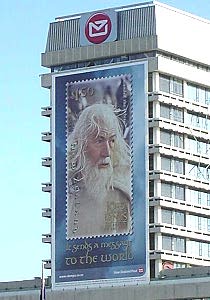 A giant advertising sign of the $1.50 gummed stamp featuring Sir Ian McKellen as Gandalf from the movie "Lord of the Rings: the Return of the King" hangs on the side of the post office building in Wellington, the capital of New Zealand.

One in four of the usually sleepy capital's 400,000 people thronged the streets Monday, December 1, to fete the trilogy's stars, coming to the premiere of the series' final installment.

New Zealand Post has issued six gummed stamps, six self-adhesive stamps, six mini-sheets and eight first day covers (all six gummed stamps, all six self-sticks, one each for the mini-sheets).

Says NZP on its Web site:

"At last. The final, enthralling installment of the 'The Lord of the Rings' has arrived.

"We have shared the triumphs and tragedies of our heroes in 'The Fellowship of the Ring' and 'The Two Towers'. Now we can witness the compelling conclusion to this epic motion picture trilogy — a landmark in cinematic achievement."



Not to mention a landmark in New Zealand film-making.

"New Zealand Post is honoured to present The Lord of the Rings: The Return of the King - the third and ultimate collection in a stunning stamp series that has been acclaimed by collectors and Tolkien fans around the world.

"The six stamps in this evocative collection gain even more power when set against their scenes in the movie - as in the six very special miniature sheets that accompany the collection."

Technical Details:

Date of Issue: 5 November 2003
Designer: Frans Lenzen, CommArts Design, Wellington, New Zealand
Printer: Southern Colour Print, Dunedin, New Zealand
Stamp Size: 25mm x 50mm (gummed)


26mm x 37mm (self-adhesive)
Sheet Size: 25 Stamps per sheet
Paper Type: De La Rue 103gsm red phosphor coated (gummed)


JAC Non DC PS1 B100 PSA (self-adhesive)
Perforation: 14.25 x 14 and die cut
Period of Sale: Unless sold out earlier the stamps will remain on sale until 30 June 2004
Order online here!




---
Virtual Stamp Club Home Page