Honoring Thy Father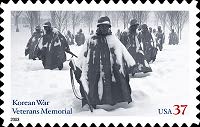 At first glance, the new Korean War Veterans Memorial stamp appears to show soldiers trudging through the snow (right - click for a larger view), but it's really a photo of the statues at the Korean War Veterans Memorial on the Mall in Washington.

The 19 stainless-steel statues depict servicemen in the Army, the Marines, the Navy and the Air Force. Shown marching in a wedge formation as if on patrol, the statues also represent an ethnic cross-section of the United States. The memorial was dedicated eight years ago.

For airline pilot and Gulf War veteran John Alli, taking the photograph was a case of honoring his father upon his retirement from 40 years of government service, including time serving in Korea.

"I took the photo to give something meaningful for my father," he told The Virtual Stamp Club.

Alli, who now flies for United Express rather than the Marine Corps, went to extraordinary lengths to photograph the Memorial, getting up in the middle of the night to drive from his home in suburban Baltimore to the Capital in a heavy snowstorm.

The weather was important, Alli said.

"In nice bright light it just...they look like statues," he said.

But a quick look at the photograph may fool the eye into thinking it's a photograph of actual soldiers. In fact, Alli calls the picture "Real Life."

"I think it does represent the Korean War and that bitter cold," he said. "I waited until the weather was the worst, because I knew it would remind him of the Korean War. He always talked about how cold it was."

The Marine Reserve pilot's friends suggested he enter the photo in a naval magazine's contest "and I won first prize."

It appeared on the cover of Naval Institute Proceedings, and from there it came to the attention of the Postal Service, which based the stamp's design on it.

The stamp was launched Sunday, July 27, during the Defense Department's ceremony commemorating the end of the Korea War 50 years ago. It should be in local post offices on Monday, July 28.

The Korean War began on June 25, 1950, when communist troops from North Korea invaded South Korea. U.S. troops were sent to lead the United Nations force defending South Korea. By the end of the action, 34,000 Americans had died in combat, 37,000 from all causes, and 103,000 had been wounded.

In 1985, the Postal Service issued the 22-cent Veterans Korea stamp. The Korean War, a 33-cent stamp, was issued in 1999 as part of the 1950s "Celebrate The Century" stamp pane.
"I waited until the weather was the worst, because I knew it would remind him of the Korean War. He always talked about how cold it was."
Photographer John Alli
Articles on the stamp design in the non-philatelic press:
Catonsville Times:
DOD's Defenselink site:
Armed Forces News Service:


---
Virtual Stamp Club Home Page