Janet Klug Named To Stamp Selection Committee
Cincinnati-area stamp collector, writer and philatelic leader Janet Klug has been named to the U.S. Postal Service's Citizens' Stamp Advisory Committee, starting in April 2010.

Klug is presently the Immediate Past President of the American Philatelic Society, following two terms as its president, 2003-2007. She is also the current chair of the New Initiatives Committee on the Smithsonian National Postal Museum's Council of Philatelists.

Klug writes regularly for Linn's Stamp News and Scott Stamp Monthly and other articles have appeared in many other philatelic publications. Her president's columns for the APS also were published here on The Virtual Stamp Club. Her books include Guide to Stamp Collecting (2008) and 100 Greatest American Stamps (2007).

"Janet brings a wealth of expertise and knowledge to the committee," said Postmaster General John E. Potter in the press release announcing Klug's appointment. "She represents one of the many voices of the stamp collecting community and we welcome her to CSAC."

Klug says she is excited about joining CSAC, telling The Virtual Stamp Club in e-mail that she has "50-plus years of being passionate about stamps, stamp collecting and stamp collectors, and a curiosity about the people, places and things that are honored on stamps."

Klug's writing has concentrated on helping beginning collectors, increasing the knowledge of more advanced collectors, and unusual aspects of philately. One of her collections, for example, was tin-can mail: Food cans that were used to enclose mail for Pacific islands that were then dropped from airplanes into the sea.

Klug was the guest at two "chats" for beginning collectors on The VSC in 1998. You can read transcripts here and here.

Earlier this year, the CSAC terms of former APS president and columnist John Hotchner and former Second Lady Joan Mondale expired. They were replaced by former National Endowment for the Arts chairman Dana Gioia, a longtime stamp collector, and two graphic designers. Klug feels it's important that the APS have a presence on the committee.

"The USPS is one of APS' strategic partners and keeping the lines of communication friendly and open is vitally important to the APS and its members," Klug told The VSC. "I'm grateful the USPS enough about their relationship with APS to appoint an APS member (more than one, actually!) to CSAC."

Gioia is also a member of the society.

As the U.S. Postal Service tightens its belt and fewer people use stamps to mail letters, the question begs whether stamps are still relevant in the 21st Century.

"I hope stamps will be relevant for a long time to come, because stamps teach and entertain. I think about how much I have learned by collecting stamps. The long-running Black Heritage stamps as taught me about amazing individuals such as Bessie Coleman. Without stamps it is unlikely I would have come to know her story," Klug said.

"Technology is great, but to be honest, a quick e-mail will never be as special as a hand-written love letter bearing a pretty stamp."

You can read the reaction of VSC members to Janet's appointment in our message board.

Below are some pictures of Janet since she first was elected to the APS Board. She was sworn in as Secretary in August 1997: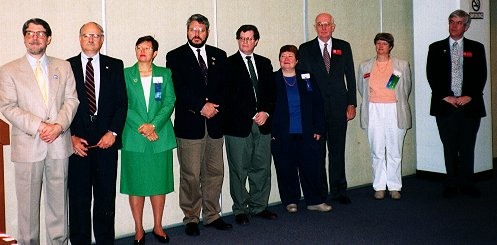 She is third from the left in this photo. Others, from left, are Randy Neil (incoming Immediate Past President), John Hotchner (President), Klug, Wayne Youngblood (Director-at-Large), Lloyd de Vries (Director-at-Large), Jeannette Adams (Director-at-Large), Gordon Morison (Vice President), Patricia Stilwell Walker (Vice President), and Peter McCann (Vice President). Not shown is Ann Triggle (Director-at-Large).

As president in August 2003, Klug cut a ribbon of private mailers permit stamps to open the first part of the American Philatelic Center in Bellefonte, Pa.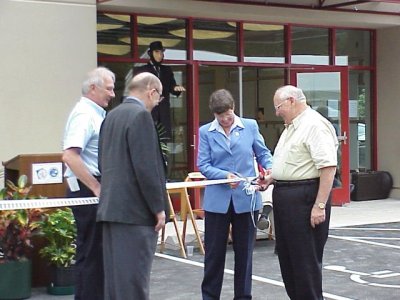 Klug then spoke 10 months later in June 2004 at the dedication of the first part of the main complex: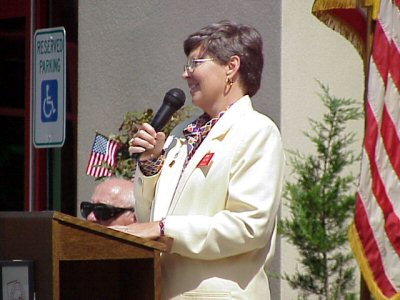 ---
Virtual Stamp Club Home Page